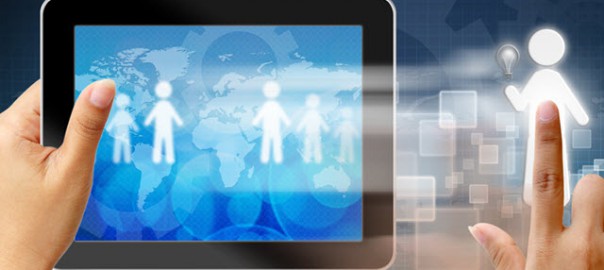 One of the most important aspects of a company, is the ability to provide resources for it's humans. With the drive of technology in the past few decades, the HR department has been forced to rethink their approach on how they manage their people.  SaaS (software as a service) is a common theme in this journey, and one being adopted by more companies every day.  The following points touch upon why SaaS is the only solution that makes sense.
 It's Affordable
In many departments, scalability and improvement mean cost.  SaaS allows you to implement solutions, without needing a baseball team of IT on hand.  The cost of in-house development far exceeds that of a simple software solution.  It has a low load.  In addition, most SaaS resources are provided by the supplier, and are turn-key by nature.
You've Already Made Friends with the Internet
Circling back to the concept of "we live in the age of technology," most employees are familiar with web and mobile applications.  They already deal with software and simple UI's (think dashboards) on a daily basis.  Thus, the learning curve is small when implementing this solution.  An employee's familiarity with accessing information online allows them to comfortably adopt these new practices.
It's Safe and Loves to Travel
Two major misconceptions about SaaS, is that it won't protect your information, and is stuck in one place.  With single-sign on options, and advanced security techniques, your information is safe.  At the risk of sounding exaggerated, the resources are also limitless.  SaaS allows an employee to access your HR report while sipping coffee in Morocco, and then share it to their counterparts in Kenya.  All within minutes.  
You Gain Super Powers
You can instantly become a master of multi tasking.  Through data analysis and automation, you can be free from time consuming processes.  Say goodbye to your resource vampires!  Freeing up space means you can focus on developing greater resources and improving efficiency, with little to no overhead cost.  HR can be last on the list for technology resources, and it is often difficult to state a case to warrant more.  SaaS can allow HR to hopscotch right next to other departments.
Sharing is Caring
In other words, SaaS plays nicely with others.  Many proprietary systems require a lot of funds and coding from scratch.  SaaS is built for integration.  It has the ability to scale large data and spread it out over your various platforms and functions that are already in place.  This can be done through "add-ons" like plug and play capabilities, or 3rd party applications, that are often of little to no cost.  This leads to our next point.  
You Don't Have to Rewrite History
A common misconception is that SaaS is rigid, inflexible, and a poor option for smaller businesses. This confusion comes from the fact that people think configuration and customization are interchangeable concepts. Customizing is generally done with coding from scratch, and is quite costly.  With configuration, there are signs along the way (preset into the code) that allow you to make decisions.  In other words, you're not building the road, you're just choosing where to turn.  A good SaaS solution is configured to meet your basic needs, with options in place that can be activated like a light switch.
 It Grows up
SaaS is constantly evolving.  This is mostly achieved through multi-tenant SaaS (i.e. a shared solution with other local businesses and/or departments).  SaaS is intuitive and innovative.  It is designed to grow and sustain with the marketplace.  This differs greatly from proprietary programs that must first research what needs to be changed, before implementing a costly process.  They also tend to be rather stagnant, eventually becoming outdated.  This can happen rather quickly in today's quick paced, transitional market.  With multi-tenant marketing, your big brother can share his idea about a cool new toy, with no cost to you.  Shared information is a benefit to all!   
Content of this article was  inspired by Darcy Jacobsen with Globoforce