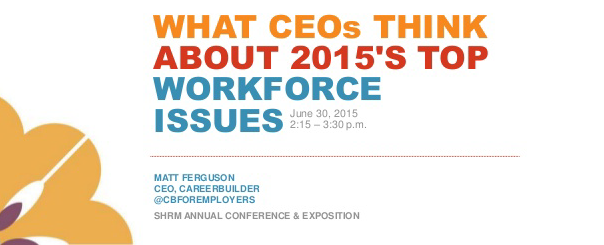 What CEOs Think About 2015's Top Workforce Issues from CareerBuilder for Employers.
Questions Addressed in this Presentation
What workforce challenges keep your CEO's awake at night?
What are your industry's top Human Resources challenges?
Which criteria are used to rate the effectiveness of HR in your company?
How many HR managers have tried applying for positions posted by their own team?
What percentage of job applicants give up in the middle of applying for a position? Why?
What are the top Recruiting Technology challenges of your company?
These and twenty more questions were posed to CEO's of hundreds of mid-size to large corporations.
We think you'll find the responses of great interest.