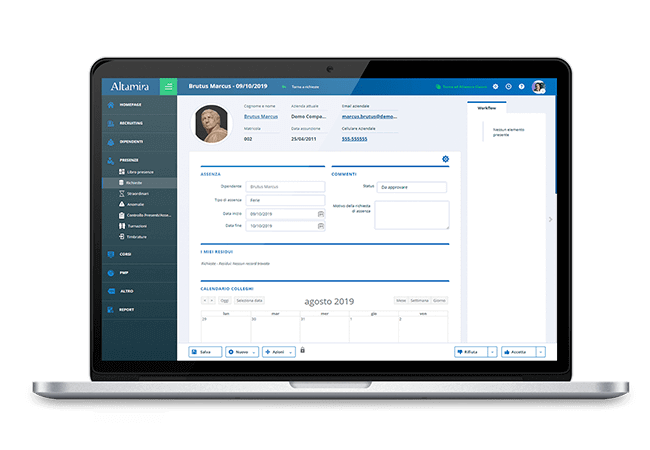 Self-service platform access
All staff can access the platform from anywhere and with any device: all they need are username and password and an internet connection.
Once logged in to their account, each employee can check their leave balance and available permissions, view the team leave plan and filter it as needed.
Managers and personnel managers have different levels of access, depending on the permissions set by the company.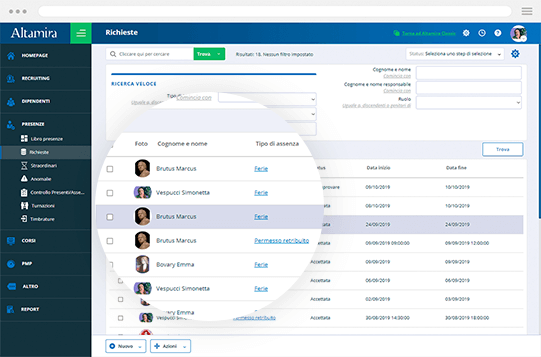 Requests and approvals in only a few steps
Leave and permission requests are processed through a template which varies depending on the type of request. Just select the type of request, fill out the required fields and, if necessary, attach a background document.
The new request is immediately notified via email to the responsible person, who may evaluate it without even accessing the platform. In fact, all they need to do is click on the link included in the message to access a page listing all the information about the request and leave plan of their staff.
In addition, an employee may request the cancellation or rescheduling of an application for leave or permission already approved. All operations can be conveniently carried out by smartphone, or else from their work computers.
Speed up the application and approval process for leaves of absence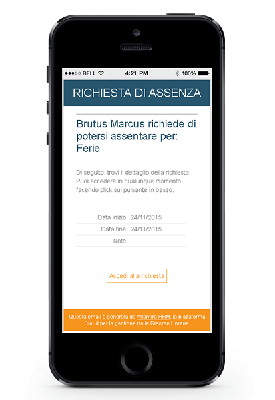 A few clicks, a whole lot of work saved
The leave application and approval process is highly automated thanks to our workflow system.
This means that each transition from one status to another (for example: new request, for approval, cancelled etc.) triggers an automatic notification to the interested parties, with valuable time-savings for everyone.
Our system also allows for multiple approvals, for example by the office manager and the HR office. What's more, the workflow adapts to the type of request, allowing you to automatically approve certain requests such as sick leave or permission under special provisions.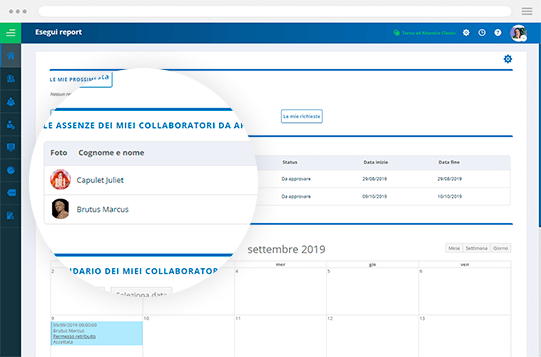 Integrate it with time and attendance software
Our time and attendance software integrates seamlessly with Altamira Leave Management.
And if you have a time and attendance system from another provider, there is absolutely no problem! Altamira Leave Management can interface with other platforms and provide them with all absence requests.
Cross-checking information about clocking-in and absences significantly reduces the number of anomalies that an HR office has to resolve. This results in a saving of time and resources that can be used for other activities with higher added value.

Want to know more about Altamira Leave Management?