Why choose Altamira Leave Management?
"Altamira Leave Management aims to optimize authorisation procedures and leave of absences. The interface is easy to use and very user-friendly. The availability of data stored in the cloud is essential in monitoring and analysing the situation in its entirety and the reports are convenient when processing payrolls."

Alice Di Diego
Managing Partner with Ambrosiana Advisory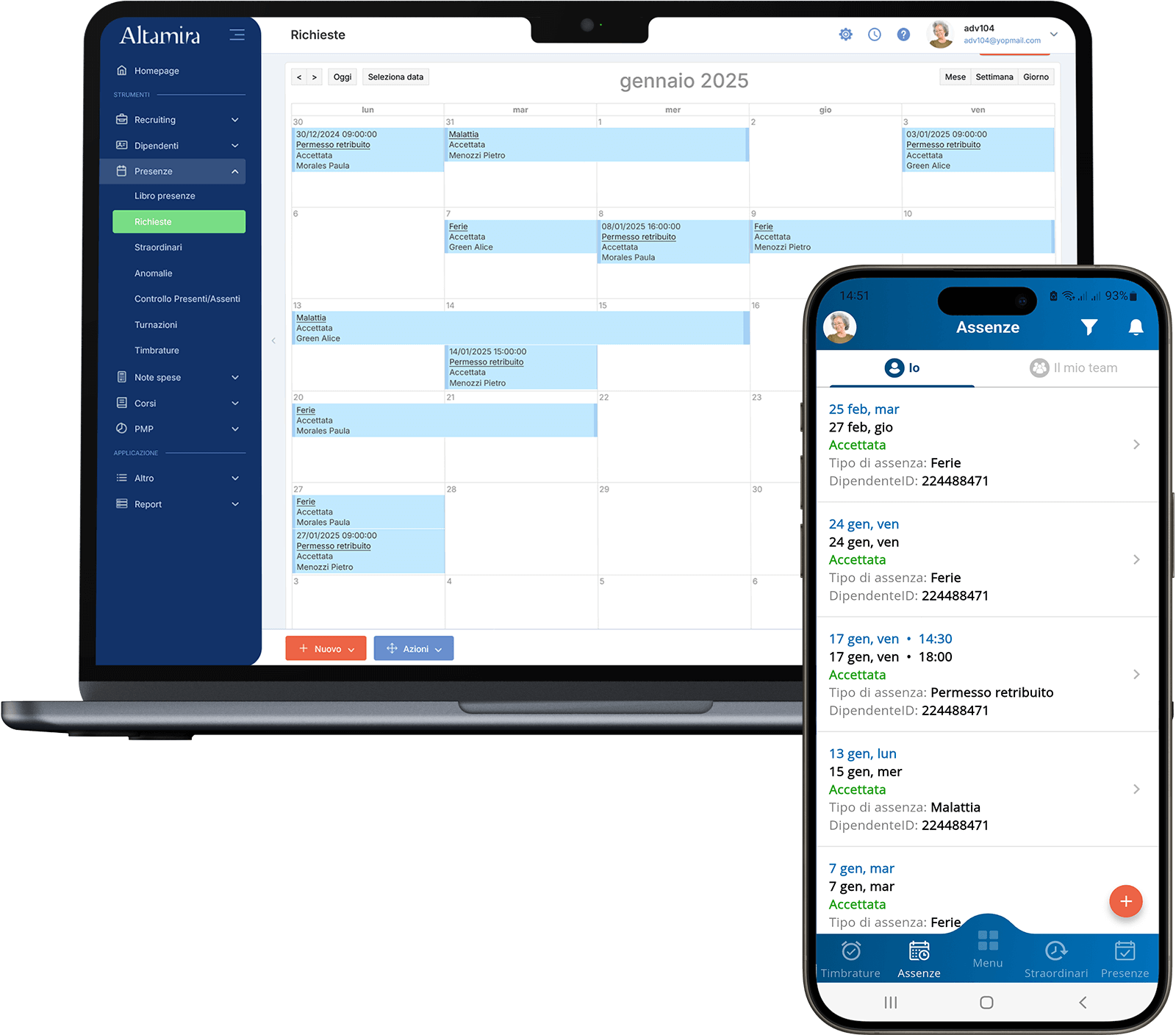 Simplify vacation and leave management
Put an end to the confusion generated by emails, phone calls, hard copy documents and improvised conversations, handling the entire process of requesting and approving vacations and leave – complete with supporting documents – within an intuitive and secure cloud system, accessible through a simple browser and our native app.
Provide a shared and filterable absence calendar
With a shared calendar, it is easier for the staff of your company to organize their vacation plans and assess when best to request leave. The schedule of absences is filterable by employee, manager, business unit, type of absence etc. so you can see at a glance exactly the information you need.
Altamira HRM Presentation
Discover the benefits of a complete HR management software suite.
Free Demo!
Advantages of our leave management software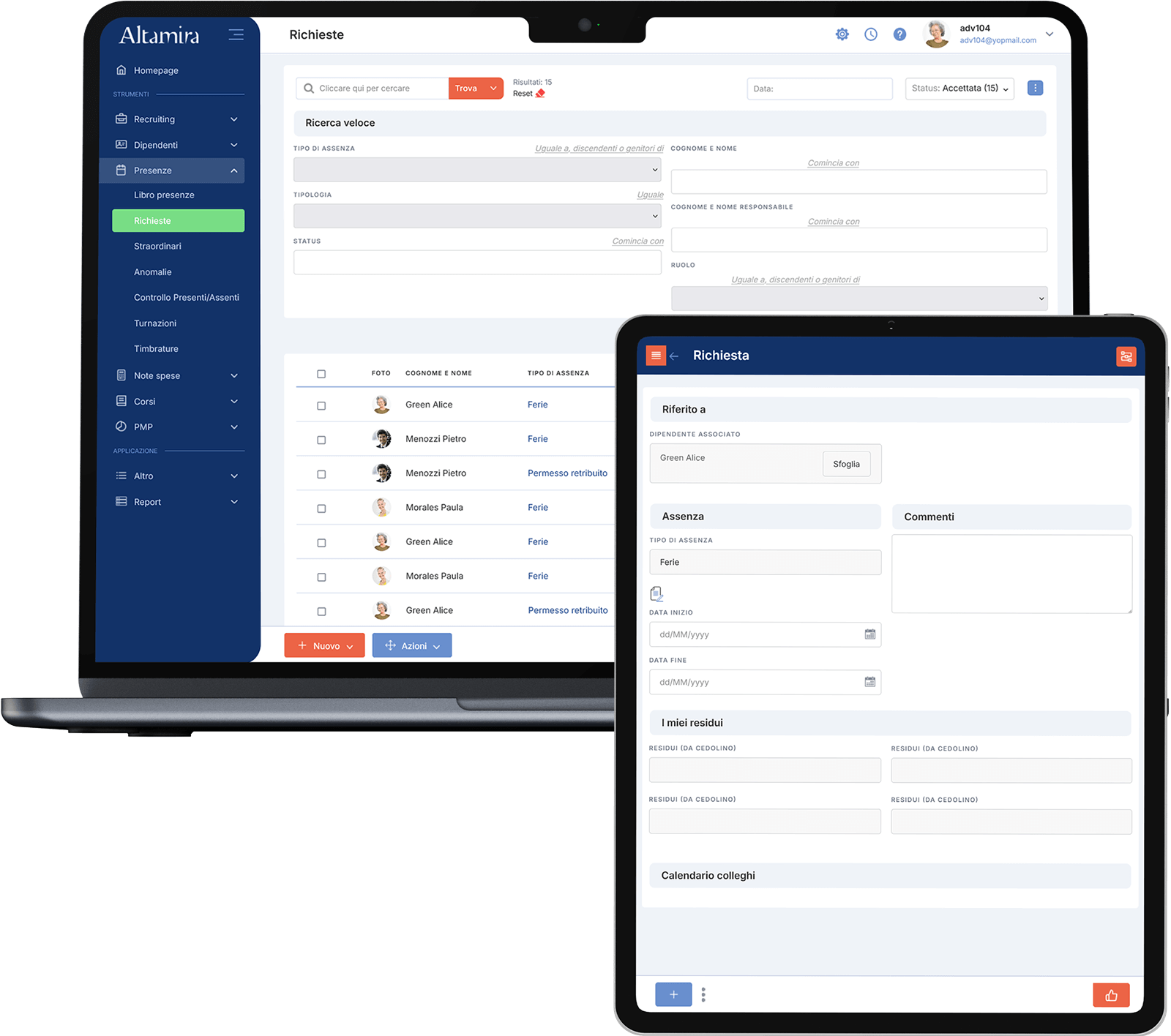 Save time with an easy to use and highly automated system
Take advantage of the many automatic mechanisms in our leave management software and customize them to suit all your needs. The employee fills out the request form, a notification goes to the manager or the HR department and, upon their approval, the vacation calendar will update automatically and inform the employee. This way, no team will ever find itself short of staff.
Take advantage of the Android and iOS app
Our offer includes a native app that further simplifies the leave management process. Thanks to its intuitive interface, employees and managers can request and approve vacations and leaves in a matter of seconds using their smartphone, wherever they are. Meanwhile, push notifications update users in real-time on the status of each request.
Archive all documentation
Wherever needed, you can attach background and other documents to your own vacation and sick leave requests. They will be archived by our leave management software and made immediately available to the relevant people.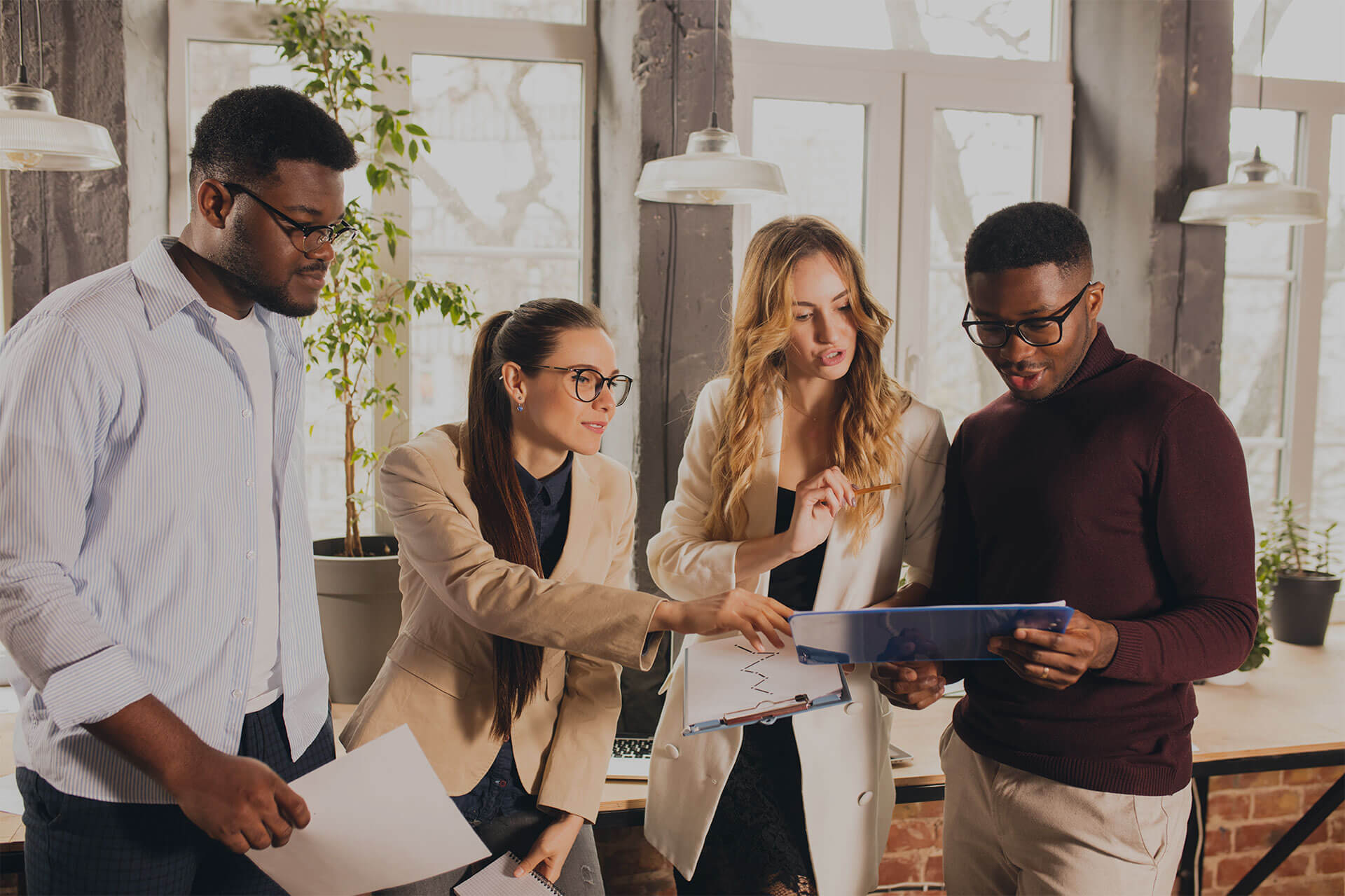 Send your Excel spreadsheets on vacation
The modern way to address workers' fundamental leave rights. Our leave management system makes things easy for employers, eliminating the hassle of spreadsheets and Access databases. It is fast, interactive, transparent and secure, and also incorporates messages and notifications as well as automatically tracking the history.

Use it for expense reports and smart working
Thanks to our wide-ranging customization capabilities, many companies also use our leave management software to keep track of their smart working days and attach expense reports to their trips. Simply customize categories and templates to be able to attach documents and indicate amounts, and you'll have an expense report management software included in the price!

Ensure privacy and quick approvals
With Altamira Leave Management's advanced security and approvals system, employee absence requests are addressed only to the person or persons responsible for their approval, through a streamlined process which fully complies with privacy requirements.
Altamira Leave Management's software offers a self-service platform which can be directly accessed by managers and employees to submit, approve or reject requests. A clearly visible tally of leave days accumulated and used is maintained and updated.

Respond to all requests
Thanks to the advanced notification and alerts system, you can rest assured that no vacation or leave request is ever overlooked. And, just as for most other parts of our platform, you can personalize the nature and frequency of the messages.

Keep track of all requests and approvals
Our application keeps track of the whole process, from the employee's request right through to the manager's approval. Managing vacation and leave requests with our software eliminates the risk of inconsistencies, ambiguities and errors. All employees will be able to enjoy their well-deserved vacation periods!

Immediate visibility for holidays and leave days
With Altamira Leave, employees can easily consult an up-to-date count of their remaining holidays and leave days, those they've accrued, those they've already used, etc., without having to painstakingly trace this information on the pay slip. In this way, requests for leave will be made quicker and will be more carefully considered.

Total transparency for periods of high demand
During the summer, Christmas and Easter periods, requests for vacation and leave increase and so does the discontent of those who are forced to continue working. With our leave management software, you can manage the request and approval process in a joint and transparent manner and empower your employees.

Keep your information secure
All data entered in the Altamira platform is secure in our data centers and remains your property. This means more than a contractual guarantee, because you can also export the data at any time.

Avoid additional costs for the company
Many companies fail to properly track the amount of vacation and leave time taken by employees, which can lead to them facing unforeseen costs. With our excellent reporting system, you can quickly view all the information you need and identify any anomalies.

Interface with attendance software
Our SaaS leave management software can interact with all the main attendance monitoring systems, with a fruitful exchange of information. In this way, the anomalies generated by your attendance monitoring software will be drastically reduced, leading to considerable time savings for the HR office.

Create an integrated ecosystem thanks to the Altamira API
We believe that HR management is an integral part of a company's business, which is why we have created an open platform that is ready to integrate with the applications you're already using. Thanks to our API (Application Programming Interface), which offers both data reading and writing functionality, your coders can develop sophisticated processes of data exchange, giving you total control over the information and processes of your business. Just like the platform itself, the API is customizable according to your needs.
PRICES
Altamira Performance
Our offer includes our renown customer
service and exceptional service level agreement of 99.99% of uptime.
Get the most out of our
leave management software
with additional modules from the Altamira HRM Suite