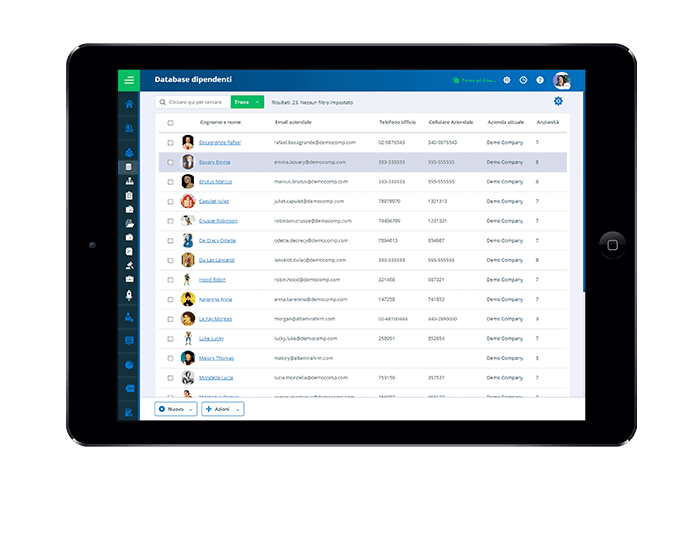 Centralize information
The employee database stores all information and documents relating to co-workers – internal or external – in their personal account. You can store and consult their personal data, contacts, qualifications; compensation, bonuses and benefits; competencies and existing competencies gaps, etc.
It can also handle with ease a large number of employees: thanks to the system of filters and advanced searches, finding the person you are looking for within the database is quick and easy.
Altamira Employees can be configured as the company's primary source of HR data (HR master database) or to work using data provided by other platforms or in a mixed role, thus adapting to a multitude of business scenarios.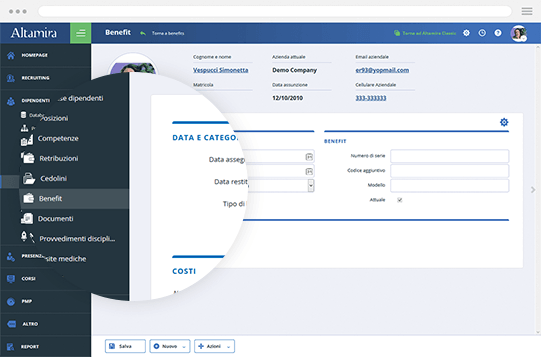 All the data you want, at your fingertips
With our employee management software, you can choose which information you want recorded on your employee sheets and in the database.
We supply you with a basic configuration, subdivided into thematic sections, but you are free to add, change and cancel fields so as to include exactly the data that you want to have always on hand.
Through the various modules of the platform the HR office has a constant overview of the work force, including the list of benefits enjoyed by employees, all the documents uploaded over the years, their skill sets, company courses and so on.
Put technology in the service of Human Resources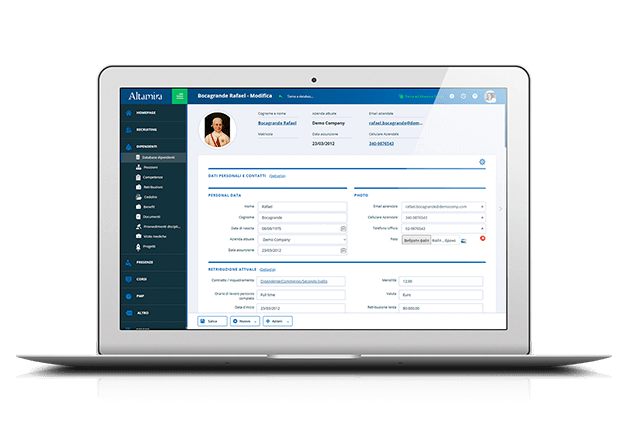 Pay slip data, finally in understandable form
Would you like to monitor at a glance the emoluments of your employees, without needing to have recourse each time to their pay slips, with all the problems this entails?
We make your employee database and your payroll software (or that of your employment advisor) talk to each other so as to automatically import all the data you need, including accumulated leave and absences.
You can directly visualize these in employee forms and use them in reports and searches for your strategic appraisals.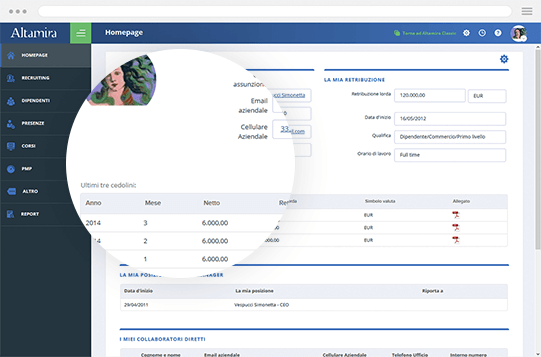 Self-service access for all
Our personnel database is self-service, meaning each employee can access their own data as approved by the HR office.
The staff can enter and amend their data, upload documents and check their remaining vacation time and absence permits without having to consult their pay slips.
This offers many advantages: it speeds up the employee database updating, reduces the workload of the HR Office, accelerates onboarding processes, empowers employees thus increasing their level of engagement, etc.

Want to know more about Altamira Employees?