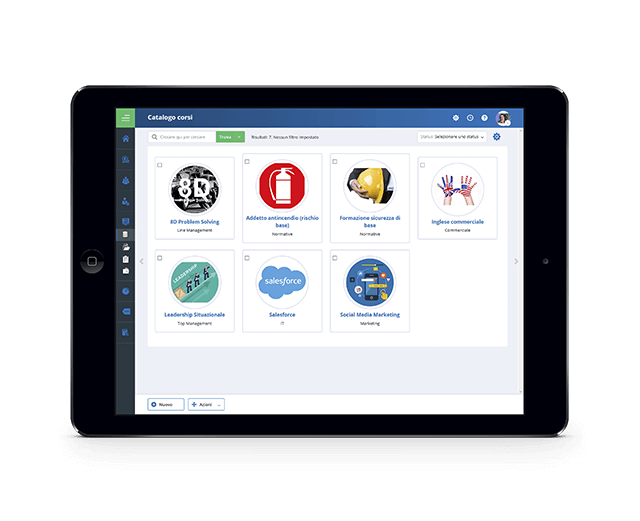 Plan training courses down to the last detail
The template for creation and management of a course enables you to enter a huge amount of information.
You can set the start and end dates of a course, decide the total number of hours, set a deadline for registration, identify the institution or the trainer who will hold the lessons, record the total cost and the cost per person, identify the competencies developed by the course, etc.
Thanks to this and other sections, the logistics of the courses are handled entirely on the platform.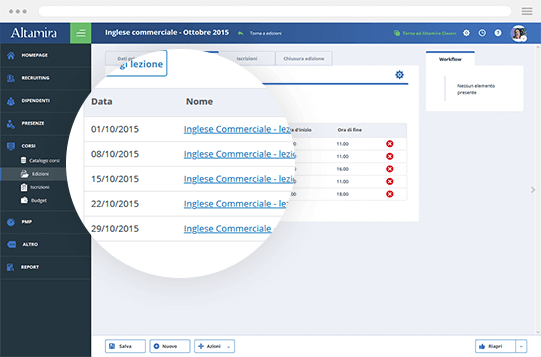 Define the class schedule
Planning the class schedule is a critical step in the management of a business training.
It can be done using our software for training course management, which offers the advantage of making the calendar and any changes made to it during the year immediately available to all.
The platform keeps track of everything relating to each lesson, not only the date and time, but also the title and subject of the lesson, the venue, the teacher, the duration of any breaks and whether attendance is obligatory or not.
Manage training courses with Altamira Learning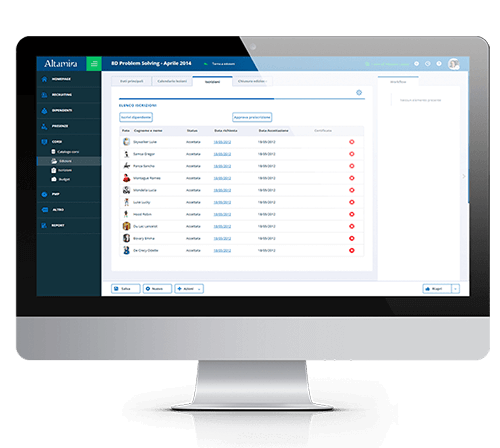 Manage training course registration
Altamira Learning is a self-service environment. This means that every employee has access to their own account, to the corporate training plan and to the class schedule.
If you so wish, you can also enable them to register for the classes directly, with or without the need for approval by the direct manager or by the human resources officer.
Alternatively, you may decide that only the HR office may enroll employees, thus maintaining centralized control of corporate training management.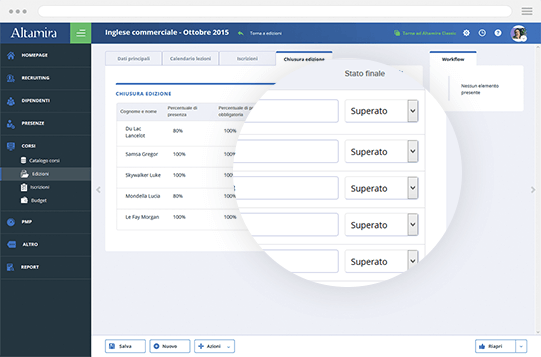 Organize examinations and grades
Would you like to find out if your employees have truly benefited from the courses attended, acquiring the competencies they needed to improve their contribution to the company?
Altamira Learning enables you to organize one or more exams during a course and to track their outcome, including by delegating this task to the trainer.
In this way, the competencies acquired during the course will be awarded only to those who successfully pass the final exam.

Want to know more about Altamira Learning?