It's undeniable that personnel selection has become increasingly complex in recent years, regardless of economic trends.
Even in times of recession and growing unemployment, companies are struggling to find the right candidates, especially those without precise recruitment strategies or reluctant to adopt innovative technologies.
In this post, we will analyze the features and advantages brought forward by the most crucial IT tool in the recruiter toolbox: the hiring software, also known as Applicant Tracking System (ATS).
Adopting this technology can free up precious energy to be directed toward more strategic activities, such as drawing up the medium and long-term integration plan, or toward more "human-centered" ones, such as interview management.
The good news is that even SMEs can now afford these solutions as the technology behind sourcing and selection software has matured, becoming more reliable and accessible to companies of all sizes.
In this post, we will look at:
Key features
Most recruiting solutions share a similar core set of features but with different levels of usability and sophistication.
Career Site
In this day and age, a good employer branding strategy is essential to attract the best-suited candidates. At the core of this strategy lies the Career site, which is essentially a hub used for sourcing and selection.
Here, companies can advertise open vacancies, allow spontaneous applications, and communicate with potential candidates.
A growing number of enterprises have taken it a step forward and begun to use this feature to communicate their vision, mission, and culture. This can be done by sharing captivating content (texts, photographs, videos, etc.), showcasing employee benefits, introducing new hires, or documenting a typical workday at the company.
So make sure that the hiring software you are evaluating provides a professional career site optimized for mobile use and customizable to your needs.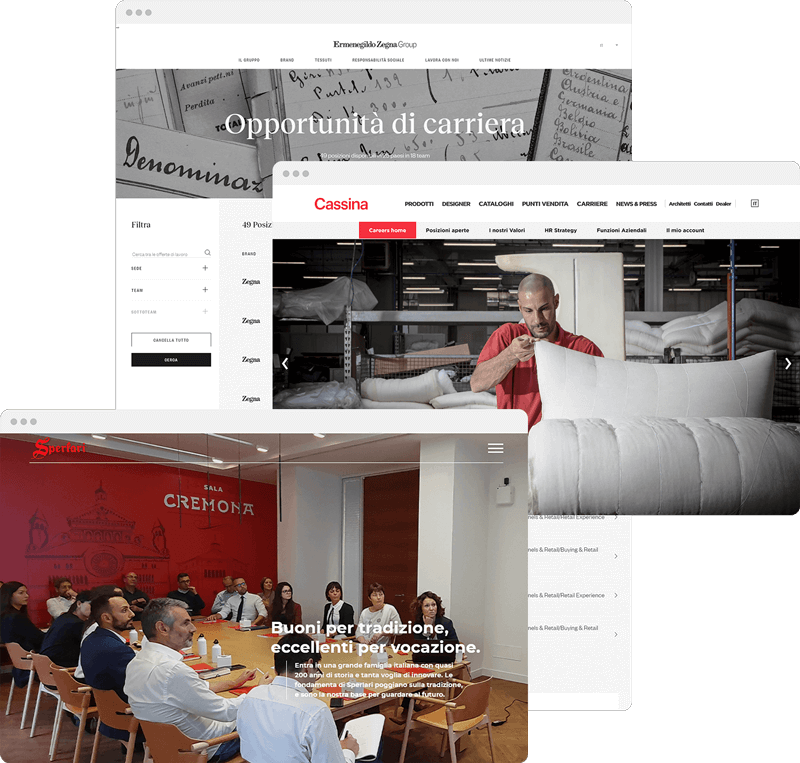 CV Database
One of the main advantages of recruiting software is its ability to organize CVs into a single database. Without this hiring tool, hiring managers are forced to track candidates across emails, Excel sheets, and paper documents, to the detriment of efficiency and accuracy.
But a good CV database also needs to be segmentable and capable of matching resumes to a particular vacancy ad. The candidates' personal information must be well organized and the CV immediately viewable, streamlining redundant operations carried out dozens of times each day.
Multiposting
This feature allows recruiters to publish their vacancies simultaneously across multiple job boards. It's one of the most common features and one that offers obvious and tangible advantages, as it improves the number of applications received without having to manually repost the same ad across multiple job search engines, vacancies boards, and social networks.
Up-to-date multiposting systems must support high-traffic job search engines such as Indeed and Linkedin. Based on their specific needs, each company will then have to evaluate whether the chosen solution also supports sector-specific vertical job search engines (for example, FashionJobs for the fashion industry) or if the supplier is willing to implement the integration.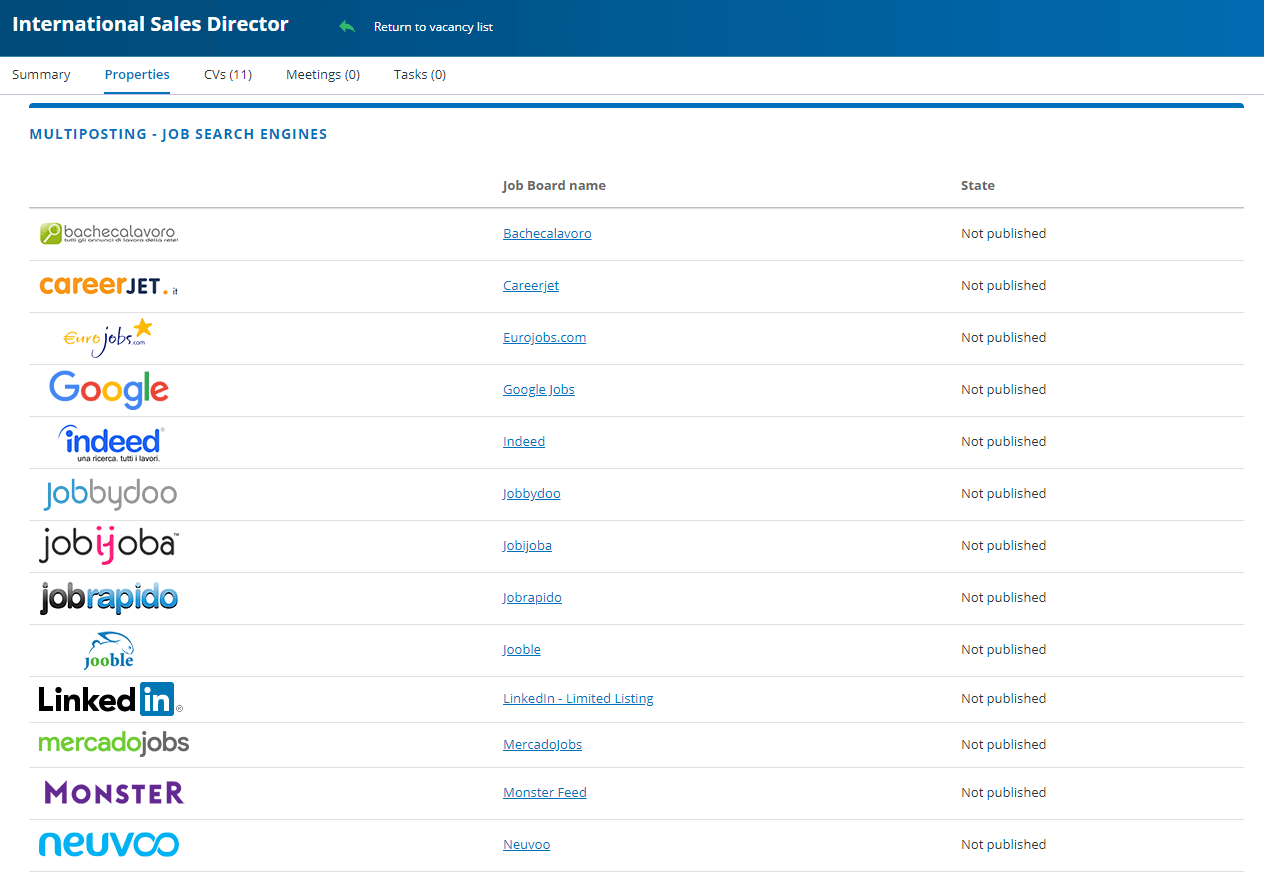 Search tools
Collecting a large CV database is not particularly useful if we can't identify the profiles with the right qualifications. This is why search tools are one of the key features of most hiring software.
These tools need to be simple and intuitive to perform quick searches throughout the platform, but also sophisticated enough to carry out complex queries with different parameters to filter databases with hundreds of thousands of profiles.
Screening tools
Modern search and selection software is known, especially among candidates, for its automatic screening features. Screening tools automatically assign a quality score to the submitted applications, allowing recruiters to review resumes in order of priority.
The technology behind this feature varies greatly from software to software. Automatic screening tools based on artificial intelligence have become popular in recent years, especially among large enterprises that need to filter through massive volumes of applications.
The ethics behind entrusting AI with such consequential decisions are still being discussed, as there is a high chance that it may carry inherited biases based on the datasets used for its training. The issue has become so sensitive that the EU and other regulatory bodies are starting to regulate its use.
Selection Workflow
A recruiting software recreates the company's or agency's selection process through workflows. Recruiters will move candidates through various progressive steps, from screening, to interviews, to hiring. Throughout the process, the recruiting software will allow them to streamline their work, set up actions, and keep accurate records.
Hiring software such as Altamira Recruiting offers highly advanced workflow systems that allow users to:
customize each step of the process to configure the desired selection path
set up automatic notification systems
filter candidates effortlessly
trigger sophisticated automation, such as API calls and webhooks involving other applications. This allows for the information linked to a candidate – who, for instance, moves to the "hired" status –to be sent directly to the company's payroll office
generate letters of employment and other documents
manage the onboarding process
Reporting and KPIs
Recruiting and marketing are becoming increasingly similar, not only because of their focus on branding strategy, but also for their ability to collect data to inform decision-making.
As such, good recruitment software must also include a robust reporting system equipped with multiple premade dashboards, graphs, and data tables, as well as the possibility to add new ones.
Key KPIs such as time to hire and sourcing channel efficiency need to be tracked automatically to streamline the selection process and to quickly identify the most profitable sourcing channels.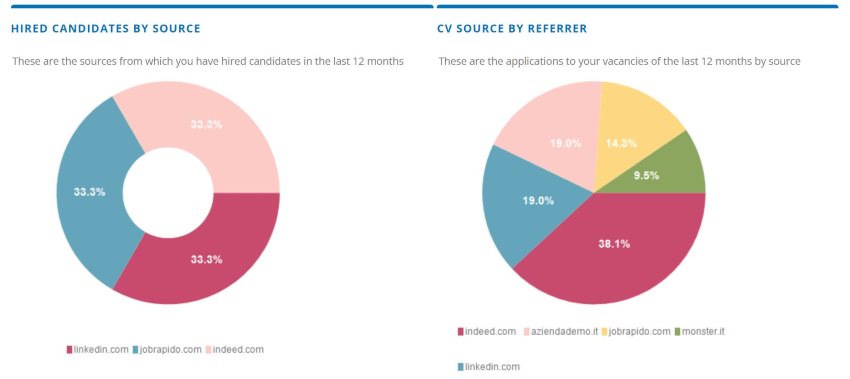 Advanced Features
Larger companies, or those that operate in specific sectors, may benefit from additional or less common features. Here are some examples:
Killer question
Businesses that want to reduce the flow of candidates not in line with the open vacancy can pre-empt the application form with some preliminary questions. Candidates that do not meet the specified requirements will not be able to proceed any further.
CV Parsing
This AI-based tool automatically recognizes and extracts resumes' content. This way, candidates can avoid filling out lengthy application forms, while recruiters can find all the information well organized in the back office. This feature is usually locked in with the most expensive product versions and is, therefore, mainly used by large companies.
Geolocation
This feature offers advantages for both the recruiter and the candidate, as it allows to identify the closest open vacancy and to filter potential hires based on distance using a virtual map. This feature is fairly rare in hiring software and is mainly used by retail and large-scale retail companies.
Blind recruiting
The ability to anonymize selected candidates' information, on an external print or on the platform itself, can be a helpful feature when sharing profiles with external customers but also to minimize recruiter biases. As such, this feature is a must-have for headhunting companies.
CRM
Sourcing and selection software destined for employment agencies or recruitment companies must include a basic CRM to link searches to each client.
Things to keep in mind
When it comes to selecting the right hiring software, the number of features offered is not the only metric to consider. A system full of components but challenging to use could still turn out to be a bad investment.
Here are some of the other aspects to keep in mind:
User experience. Recruiting software is primarily meant to assist recruiters in their daily work so that more time can be devoted to purely "human" activities such as interviews and strategy development. To do so, it needs to be intuitive and practical, present information clearly, and reduce the number of clicks necessary to complete each operation. A pleasant user interface is also a nice bonus that shouldn't be underestimated.
Customization. Companies with complex recruitment processes need highly configurable applications. The initial customization effort will require some resources and extend the roll-out phase, but it is essential to optimize the product, improving daily productivity in the long run.
Customer support. Even the most established software can present issues, and when that happens, there is nothing more frustrating than having to deal with unresponsive tech support. Consequently, it's crucial to check the guaranteed SLA and the advertised customer support beforehand, double-checking online for customers' feedback and reviews. Larger software manufacturers often delegate customer support to resellers, who provide it with varying degrees of quality.
GDPR management support. Managing candidate data correctly, without the support of an ATS, is a huge undertaking. The most comprehensive sourcing and selection software comes complete with automated tools to collect consent and comply with data retention times, but also with GDPR-compliant policy templates. Modern solutions also ensure that the cookie consent banner and the cookie policies are up to date on the career site.
Performance. Solid hiring software ensures that the platform has adequate response time. Performance may decline as the CV database grows, but this scenario is difficult to test in advance.
References. Each sector has its specific requirements when it comes to recruitment, so don't forget to ask the supplier if they have experience working with companies similar to yours.
Additional services. Some hiring software providers like to offer additional services, such as sponsorship sales on job posting sites and employer branding consultancy.
HRM Platform or Best of breed?
Choosing between recruiting software integrated within a complete HR management platform and vertical solutions that only deal with recruiting is an important decision that needs adequate evaluation.
HRM platforms allow companies to manage the employee's complete life cycle, all within the same environment. Using a single interface, employers can handle multiple processes such as training, performance review, and attendance management, with the added benefit of being able to aggregate all the collected data.
On the other hand, vertical solutions can be deployed faster but need to be manually integrated with other existing systems, entailing higher costs.
Created as a best-of-breed software, Altamira Recruiting is now part of the Altamira HRM platform, providing the best features of both categories.
Pricing model and product versions
Hiring software solutions are no longer a prerogative of large enterprises, as they've become accessible to companies of all sizes thanks to tiered pricing models.
The first thing to consider when comparing suppliers based on price point is their pricing model. The two most common formulas calculate fees based on either one of these two factors:
the number of archived CVs
the number of open vacancies
Both formulas have their strengths and weaknesses, although we believe the archived CV criterion to be the most flexible option. With this formula, companies can keep costs under control by removing less attractive profiles from their database, while the amount of ads that will need to be published throughout the year is a less controllable metric.
Many suppliers also offer product versions with different features and price points to satisfy the needs of small, medium, and large companies.
Even with fewer features, the basic version of many recruiting software will still save SMEs a great deal of time and money.
The benefits of hiring software
Companies that choose to implement recruiting software will see an improvement in many areas, including:
Work organization. Hiring software is crucial to optimize the recruitment process as CVs are stored in a single and easily searchable database, progress is automatically tracked, and many tasks and activities can be carried out with one single tool on any device, such as interview management, report creation, etc.
Efficiency. The multiposting system, the customizable application forms, the optimization of candidate screening, and the constant feedback received throughout the selection workflow are just some of the features that contribute to optimizing the sourcing and selection processes.
Collaboration. With recruitment software, recruiter teams and hiring managers can work hand in hand and carry out their tasks without worrying about stealing candidates from each other or working on outdated datasets. This is even more important today when a growing percentage of the workforce operates remotely or in hybrid mode.
Candidate pool. Hiring software allows companies to create a proprietary talent pool that can be tapped into when a new vacancy opens up. To achieve the best results, the database should be constantly curated and updated, for example, through the strategic use of a newsletter.
Employer Branding. Hiring software also supports the employer branding strategy. This is done not only through the career site, which we have already discussed, but also through optimized templates for vacancy ads and by establishing a clear brand voice and standardized communication with candidates.
Continuous improvement. The data collected through sourcing can be used to generate reports that provide invaluable insights into the achieved results and the necessary improvements.





Copyright: ©elizaliv/Adobe Stock