Recruiting marketing allows us to attract and cultivate candidates that are valuable for our company through strategies and tools that are typical of marketing.
This discipline was created to allow companies to outperform their competition in the race for the best candidates and come out victorious in the well-known war over talent. More highly developed in markets with a low unemployment rate, this is a fundamental method for companies that are often looking for personnel in specialized and competitive fields, such as IT, pharmaceutical, financial, medical, etc.
Being able to rely on the results of recruiting marketing is even more important today. The rise of remote work has broken down territorial barriers and widened the scope of the competition for talent, which can also be recruited by companies in other cities, regions, countries and even on other continents.
Recruiting marketing is a collection of tools and strategies, some of which will be presented below. Their ultimate goal is to put the candidate at the center of search and selection activities, much like the marketing and sales departments put the customer at the center of their processes.
Today's job seeker approaches the job search as they would a major purchase. They do online research, read up on multiple sources, read reviews, browse the company's website and its social media channels, in a process that can take days, weeks and even months.
To attract their attention and convince them to apply to our company, it is not enough to publish a vacancy on a job search portal. We will need to make use of the following techniques.
The main strategy: Inbound Recruiting
In recent years, inbound recruiting has been the dominant strategy among the most innovative companies, so much so that it has become almost synonymous with recruiting marketing.
It means attracting the attention of interesting talent and converting them into candidates through the use of quality content, mastering the right channels and creating an enjoyable application path from the first to the last moment.
Through this strategy, you not only catch the attention of candidates who are actively searching for work, but also cultivate the interest of passive ones.
Inbound marketing has proven over time to be much more effective and affordable than outbound marketing, which is primarily represented by telemarketing.
In recruiting as well, the advantages of the inbound methodology are now well established, due to its ability to expand the pool of candidates and persuade the most talented, while the use of recruitment agencies and other forms of outbound recruiting continues to make a useful contribution, especially for more complex search processes.
The following techniques are all part of a good inbound recruiting process, and, therefore, of the recruiting marketing strategy.
The most important techniques for successful recruiting marketing
The identikit of the ideal candidate: The Candidate Persona
For an inbound recruiting strategy to work, it's critical to be clear about who our ideal candidates are, position by position.
Just as great efforts are made in marketing to create buyer personas—portraits of potential customers—in recruiting it is worth identifying who our candidate personas are.
After discussions with HR colleagues and hiring managers, we will need to create fictional character sheets that summarize the traits—educational qualifications, work experience, passions and habits—of the ideal candidate.
Thanks to this exercise, we will know which channels our perfect candidate will frequent, which messages will attract their attention, which benefits they are most interested in, etc.
The benefits of getting to know our ideal candidate better are many, including:
Identifying the search channels to invest in
Reducing time to hire and time to fill, and consequently cost to hire
Increasing the offer acceptance rate
Better retention rate (the new employee is more in line with the company culture)
A candidate persona sheet must contain 4 categories of information:
Demographic information
Training and work experience
Interests and goals
Search channels they frequent
Here is an example of such a sheet: the candidate for the role of Junior Help Desk Consultant at Altamira.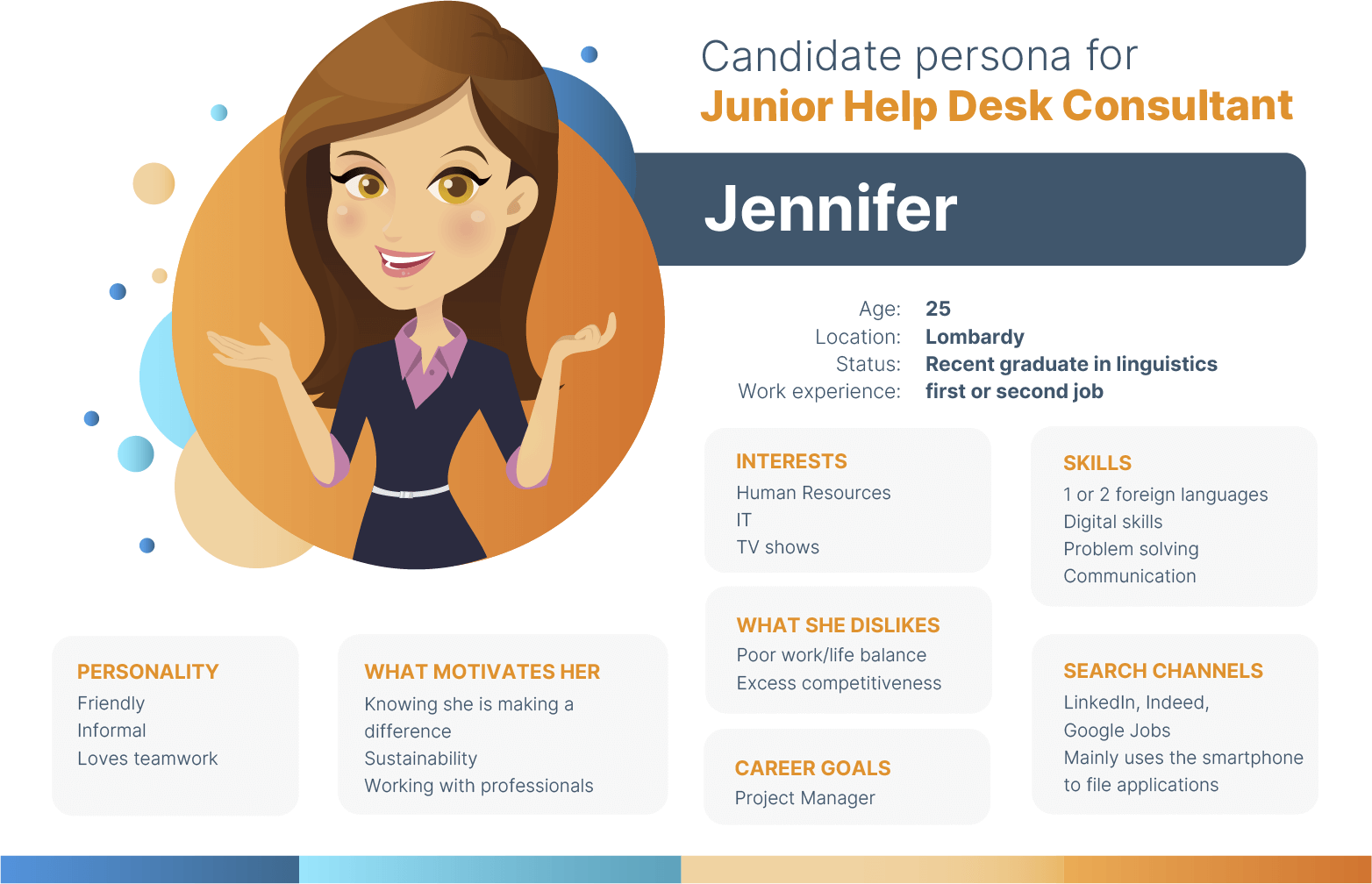 Intercepting candidates through candidate touchpoints
Thanks to the candidate persona, we can get an idea of the channels that the people who are interesting for our company are using in their job searches.
However, there are many other contexts and occasions in which we come into contact with potential candidates.
Getting to know and refining these touchpoints is a very useful exercise for increasing the efficiency of the search and selection process. After all, a chain is only as strong as its weakest link.
Our recruiting marketing strategy must therefore include the active monitoring of all company-candidate touchpoints, to ensure they are positive and consistent with each other.
Here is a list of the most common points of contact with candidates:
The job ad
Job search channels
The company career site
The information on the processing of candidates' personal data
The company's web presence
Reviews from employees and former employees
Social media
The feedback given to candidates during the selection process
Interviews and video interviews
The job offer
The onboarding process
If you want to learn more about this recruiting marketing technique, you can read our article Company-candidate touchpoints: how to recognize and manage them.
Organizing the talent pipeline with the Recruiting funnel
The recruiting funnel is one of the most interesting techniques that candidate search and selection experts are able to "steal" from their marketing colleagues.
Using this funnel-shaped path, a company can organize its recruiting strategy, guiding each candidate step by step until hiring and beyond. It can optimize the application process, refine the processes, identify the tools and channels to focus on and the KPIs to monitor to verify the success of its strategy.
What we propose below is one of the many possible models of a recruiting funnel, designed to also help the company organize the activities of staff retention, so as not to lose the talent acquired with so much effort.
Through the tools, strategies, and content listed below, you can attract candidates and take them through the stages of attraction (search and selection), engagement (pre-screening) and conversion (hiring), and then make them flourish and retain them in the company through the nurturing (retention) process.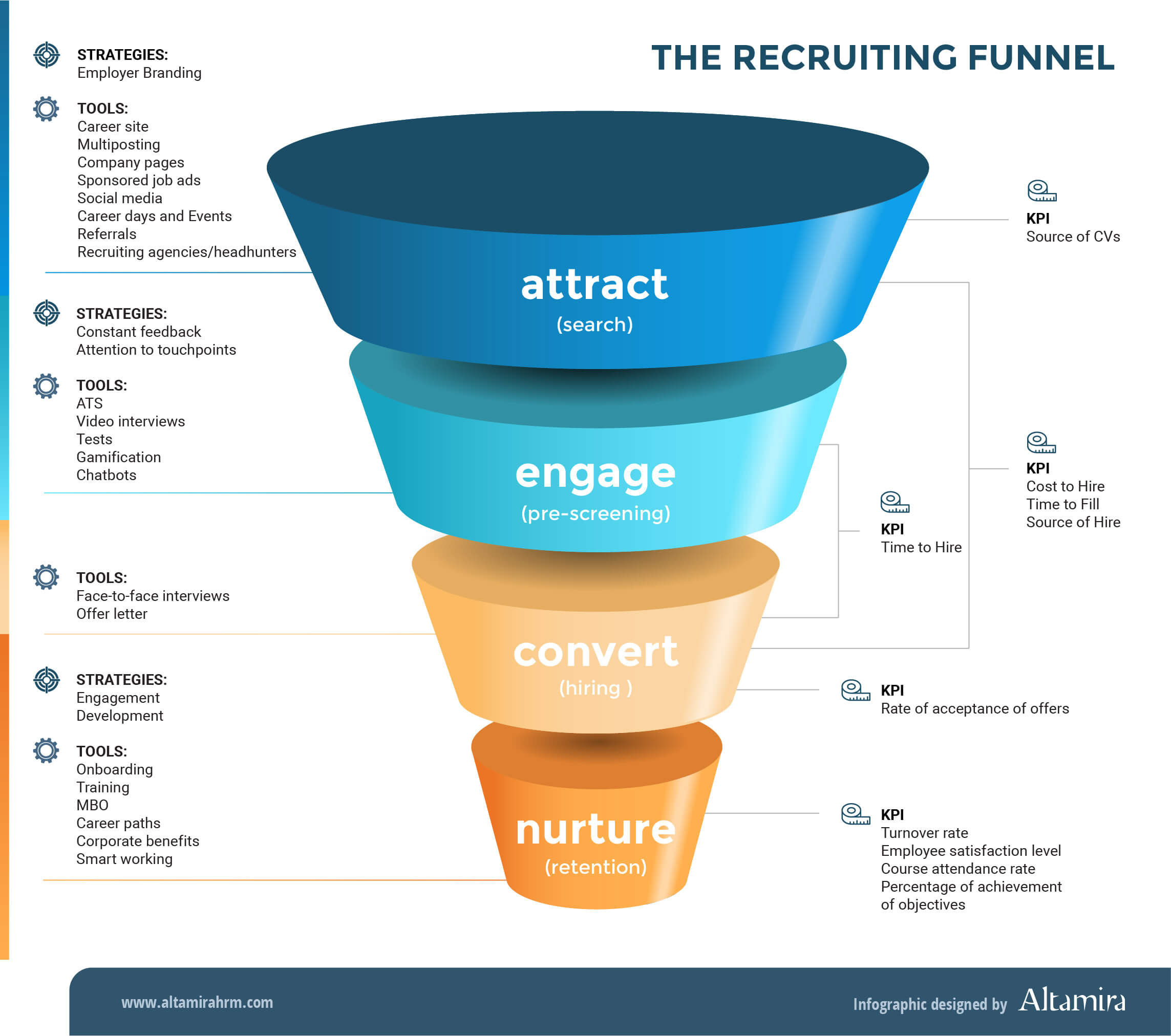 For more insights into the recruiting funnel, you can read the long article dedicated to this topic on our blog.
Persuading the candidate with Employer branding
The fact that employer branding is an important meeting point between marketing and recruiting is no longer a secret to anyone.
This fascinating discipline has been present for years, in conventions, conferences and HR courses, while companies are steadily increasing their investments in this field.
Improving the perception of your company as an employer means increasing the quantity and quality of applications received. In order to do this, it is necessary to take care of both the relationship with candidates (for example, through the aforementioned touchpoint technique) and with employees, who are destined to become our most effective brand ambassadors.
After all, with the arrival of Glassdoor and the introduction of employee reviews on Indeed and other job boards, employees have the ability to make their voices heard beyond just word of mouth, instantly reaching a potential audience of millions.
Effective employer branding requires developing a comprehensive strategy, employing the right tools and exploring the channels that are most interesting to the company, such as Indeed's company pages, Instagram social networking and on-demand video interviews.
More insights on employer branding can be found in our article Employer branding: how to succeed in the hunt for talent.
Advanced Tips
Content is king, in recruiting as well
One of the unassailable dogmas of contemporary marketing is "content is king," meaning that the quality of content produced for the web is the most important factor in an inbound marketing strategy.
Quality content is also crucial in recruiting, starting with jobs ads that are still too often left as an afterthought, sparse and ambiguous. Improving the quality of the ads you publish greatly increases the number and quality of resumes you receive. A well-written ad, accompanied by images and/or videos, attracts the attention of users, does not lead to misunderstandings and entices the candidate to send an application.
And not only: if you use the right keywords, you have a better chance of matching up with candidate searches and ranking better in search engines and on job search sites.
The job description is not the only content that needs to be approached with care. The same attention must be paid to what is published on the career site, the corporate website and social media, and in general to all communication, so that it is always consistent and of high quality.
Adopt a mobile-first strategy
All the research agrees: both general browsing and job searches are taking place predominantly from smartphones. So, to keep your redemption rate up, you'll need to take a mobile-first approach when creating your content and building your career site. This means thinking about how this content will be consumed on a smartphone, and optimizing it accordingly.
Even today, many potential candidates' browsing experience on their smartphones is interrupted when they land on a site that is not optimized for their device, thus ending their application journey.
Here are 5 requirements for a mobile-friendly career site:
Responsive layout, meaning graphics that dynamically adapt to the size and orientation of the candidate's devices.
An advanced content management system that allows us to add images and videos to our content.
A straightforward, linear navigation—and thus candidacy—path, which would be fail-safe.
Great attention to the placement of key buttons which should be highly visible and easy to click.
An application form with a small number of fields.
Adding more value to the candidate database
Companies that build their own database of candidates by collecting profiles through the career site have the possibility to ask applicants to optionally give their consent to data processing for marketing purposes. In this way, they will find themselves with a large pool of users who know and appreciate the company so much that they want to work there, which they can also use for marketing and sales activities.
Social media channels – few but good
Today, a strong social media presence is essential in both recruiting and marketing. In 2020, there are now an estimated 3.6 billion active users of social media globally.
If you don't have a lot of resources, however, it's best to avoid diluting your efforts on too many social networks. Better to focus on one or two of them, for example LinkedIn and Instagram, which need to be approached with constancy and care, adopting the right register for each social network.
Other tips for social media recruiting, which we look at in detail in this article, are:
Establish a company policy for analyzing candidates' social media profiles.
Use social channels for internal recruiting as well.
Integrate social recruiting into your recruiting strategy through an ATS.
Invest in advertising for social media recruiting
Social networks are an important part of recruiting marketing, but you can't always get satisfactory results without using sponsored posts.
Among the most popular paid tools used by recruiters, LinkedIn InMail is perhaps the most efficient for quickly reaching a high number of candidates that fit the profile for a complex position.
Use the support of technology
Recruiting marketing works if you are able to organize and control the flow of activities, communications and data it brings. Therefore, it is essential to have recruiting software (or ATS) where one can centralize all search and selection activities.
It is better to choose a solution that is easy to use, customizable to our needs, good at tracking the history of what has been done and which also supports us in GDPR management.
Measure, measure, measure
If there's anything digital marketing excels in, it's the ability to collect data to use to support choices and decisions.
This can be done in recruiting as well, simply by choosing KPIs that are consistent with our processes and measuring them at regular intervals. We don't need a lot of KPIs, otherwise we risk affecting their quality. We can be inspired in our choice by those in the recruiting funnel, such as time to hire and CV source.
Then, a good way to organize KPIs is through the balanced scorecard.
Copyright: ©Surf Ink/Adobe Stock