The new organizational trends in recent years, with "smart working" front and center, have mainly aimed at improving the flexibility of work within a company.
Businesses today are becoming more and more active on the global markets, and have long since overcome the physical and psychological boundaries of the traditional office setting. Shifts or overtime can be worked from home, while traveling, when on an errand, or—a common practice for consulting companies—at the client's premises, and the traditional 9-to-5 working hours often no longer apply.
In order to manage these changes, attendance monitoring software is also becoming increasingly sophisticated.
These systems are far from becoming obsolete—indeed, quite the opposite: they represent something that can offer a guarantee for both employer and employees.
Let's see the reasons why.
Transparency and self-service
Thankfully, the days are long gone when the only way an employee could interact with attendance monitoring was by punching a physical card when entering or leaving the office.
Today, the best attendance software solutions provide each employee with a personal page that keeps track of everything (clock-in and clock-out times, overtime accrued, anomalies, requests for overtime or leave, etc.) and allows them to interact with these processes in real time.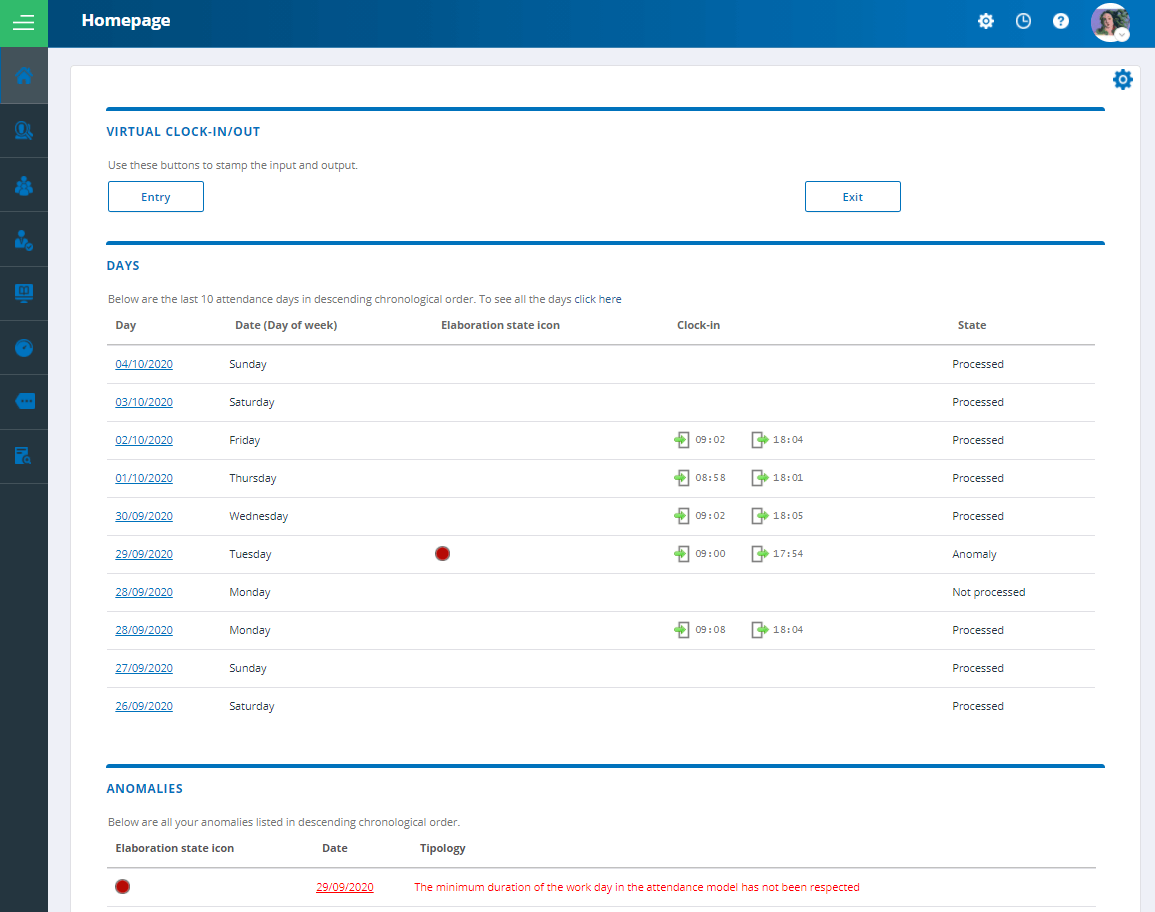 An example of a personal page dedicated to the employee taken from the Altamira Attendance software
Flexibility of hours
Modern attendance software solutions allow the HR office to manage the employees' working hours in a fine-grained manner, as they offer the option of setting up a wide range of time periods for flexible working hours.
The flexibility of the working hours is one of the most highly prized benefits for both job candidates and employees, as it is an essential element to improve the work-life balance.
Geolocation
Thanks to the geolocation system, an employee doesn't need to be physically present at the company's office in order to clock in or out. The guarantees offered by this system are one of the elements that has allowed the recent growth in remote working. Another such element is, of course, the advent of cloud-based services.
The Cloud
Switching to a web-based attendance monitoring software that enables clocking in and out remotely through authentication with secure credentials is simply a must for all companies who want to modernize their organizational processes.
This is even more important given that such software solutions often offer responsive web or app interfaces that make it possible to use them from mobile devices such as smartphones and tablets.
Security & compliance
Storing data in the cloud allows for delocalized access and, at the same time, offers greater security, with SLAs and business continuity levels that are clearly superior to what can be achieved with on-premises solutions. The data is subject to continuous backups and is protected from possible hardware failure or other technical problems that can affect the corporate network.
At the same time, the respect for privacy is guaranteed through processes and technologies that have been optimized by the service providers in this sector in view of the new regulations introduced by the GDPR.
Payroll
The use of an attendance monitoring software is essential to convey to the payroll processing system the critical information necessary for correctly managing the payroll of all employees. This is even more important for companies with organizational structures that are particularly flexible.
To get a more in-depth look, find out here which six features you should look for in your next attendance software.
Copyright: ©bakhtiarzein/Fotolia