For several years now, employee engagement and employee experience have been central themes for HR management.
The reason is obvious: satisfied employees are more productive, stay longer and speak highly of the company.
A good engagement strategy must start with identifying all touch points between the company and its staff to ensure that every effort is being made to meet employee needs.
Otherwise, there is always the risk that problems and inefficiencies unknown to the HR department will undermine employee motivation and productivity.
Below are some of the most important employee-company touchpoints:
Employer branding
An employee's experience with their future company begins while they are still a candidate. For this reason, it is important to also pay attention to the points of contact with those who express interest in a job, starting with the creation of a professional career site and a fast selection process that offers plenty of feedback. To learn about all the most important points of contact in the company-candidate relationship, read our article Company-candidate touchpoints: how to recognize and manage them.
Onboarding
An employee's first impression of their new company is bound to last a long time. It's important to avoid a situation where a newcomer spends their first few days waiting for accounts to be activated, left to their own devices in an incomplete workspace.
Upon hiring, an onboarding process should be started that includes signing and collecting the necessary paperwork, setting up the workstation, activating accounts related to the role, printing the badge, etc.
These activities involving different teams can be easily coordinated using a workflow management system such as Altamira, which sends automatic notifications for each action to be taken. It is no coincidence that the digitization of onboarding processes is one of the main line items of investment for HR departments today.
Mentor
It is important to assign a mentor to the newcomer in the early days, ideally someone who is not also their manager. A more experienced colleague who can act as a reference point for their first period, both from the professional point of view and from the point of view of integration into the company climate: if they find themselves having lunch alone in the first few days, that could be a hard blow to their spirits.
For a very junior colleague, a supervisor may also be helpful, who would offer more practical support. For example, helping them master the software they will need to use.
Manager
One of the main reasons an employee leaves is because of a poor relationship with their direct manager. The HR department should ensure that the people managing a team have the soft skills necessary to develop a positive relationship with their direct reports. It is essential to map the skills within the company, and to put in place a training plan to fill the gaps.
Workspaces
Whether this involves fixed workstations or desks that need to be reserved, it's important to provide clean and tidy workspaces where employees can feel comfortable.
For a long time, employers have tried to make offices more attractive to workers by installing break rooms with all sorts of amenities. As office attendance becomes more sporadic, these spaces have a lesser importance, but they remain a useful employeee engagement tool. At the very least, a coffee machine is still a must!
Time tracking
Clocking in can leave an employee with an uneasy feeling, making them feel like they are under surveillance. Instead, you should get the message across that time tracking serves to protect their personal life, separating it from work time, and ensure fairness. In addition, it's best to choose a cloud-based time and attendance system that allows workers to view their worked days and accumulated overtime independently.
Implementing a vacation plan
Vacation planning can become a thorny subject if not handled with due care. To manage this point of contact with the employee, it is advisable to:
Establish clear policies for requesting and approving absences.
Ensure total transparency and fairness of treatment.
Support employees in keeping track of their accrued vacation and leave days.
Empower teams to reach internal agreements.
Paycheck disbursement
One of the most important moments in the relationship between a firm and its employees is the arrival of the pay slip. To take better care of this employee touch point, it's a good idea to:
Ensure that salaries are paid regularly and on time.
Give the employee a quick and easy way to access the pay slip, for example by distributing them through the employee portal.
Regular check-ins
HR professionals should always include face-to-face time with all employees. It's a habit that needs to be reinforced in these years of hybrid work, in which casual encounters have dwindled.
Training
A comprehensive training plan is one of the benefits that candidates and employees are paying the most attention to. Here as well, an open dialogue remains essential. Employees must be able to give feedback on the courses attended, make suggestions and enroll on their own.
In addition, they need to be able to communicate if they have insufficient time to undergo the training. Offering modern forms of training such as micro learning and mobile learning can help in these cases.
Evaluation
Introducing an evaluation process in the company, whether according to skills or objectives, is one of the best initiatives that HR can implement to increase employee engagement. Provided, however, that this is not merely a top-down process, without involving staff and with little transparency.
Common agreement on objectives and a process of self-evaluation by the employee should therefore be encouraged, along with transparent feedback from the immediate supervisor. In this way, evaluation will become a positive touchpoint for employee growth and motivation.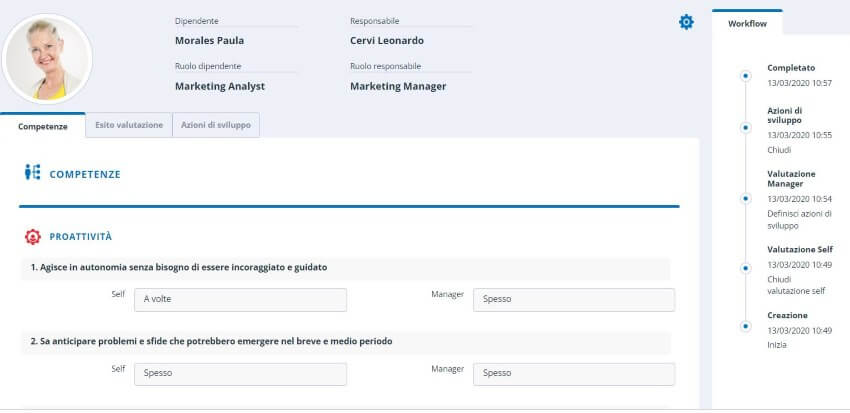 An example of a skills assessment process involving employee self-assessment, taken from Altamira Performance.
Surveys
Conducting regular employee satisfaction surveys can help you find out about problems and reasons for dissatisfaction. However, what makes the difference is the ability to take early action once a problem is discovered. These surveys can be complex, or limited to a NET promoter score applied to employees.
Events
Organizing company events – from the classic year-end dinner to events celebrating company achievements – allows employees to meet and spend time together in a different setting, increasing their attachment to the company. Involve them in choosing the venue and date, and remember to also take care of the employees who don't like these settings.
Knowledge Base
Another way in which a company can nurture its relationship with employees is through a knowledge management strategy. A knowledge base gives experts the opportunity to share their techniques and strategies, and offers the more junior staff a unique archive from which they can learn valuable lessons. It's a great way to make everyone feel part of something bigger, and to enable new employees to become independent in a short period of time. The effects on productivity and retention are guaranteed.
Offboarding
These days, so many companies are focusing on the onboarding process, which is rightly considered vital to getting off on the right foot with a new employee.
Equally important, however, is having a well-structured offboarding process, for several reasons:
Early action and a reasonable counteroffer increase the chances of retaining a valuable employee.
It allows you to understand which touch point did not function properly and prompted the employee to make the change. In some cases, it will be able to confirm that the engagement strategy is working properly and that the employee decided on the change for external reasons.
If they are taken care of until the end, the former employee will have no reason to speak ill of the company in the future.