Technology is playing an increasingly important role even in the HR departments of small companies.
It's hard to forego the many advantages that human resource management software can bring in terms of efficiency, savings and employee engagement.
Therefore, an HR professional should have a minimum background of knowledge in the terms pertaining to HR Tech, to know how to orient themselves in this area.
Below you will find a list of particularly common terms and acronyms.
AI. Artificial Intelligence. For a few years now, the first software solutions using artificial intelligence, machine learning and deep learning logics have appeared on the HR Tech market. The European Union is working on a regulation for the use of these algorithms, in particular where they are considered high risk. This is the case, for example, with AI-based automatic candidate screening systems.
API. This acronym stands for Application Programming Interface. The presence of a well-developed API in an HR software allows for easier and deeper integration with other business applications.
Native App. A native app is an application that is able to exploit all the potentialities of the device which hosts it – typically on the Android or iOS operating system. A native app can have access to smartphone features such as, for example, geolocation, camera and push notifications.
ATS. Applicant Tracking System: an employee search and selection software that supports recruiters in every aspect of their work. Among its core features we find: a candidate database, career site, multiposting, an automatic screening system and reporting. An example is Altamira Recruiting.
Backup. A reliable HR system must automatically make a copy of the data (backup) at certain intervals to safeguard its integrity. This redundancy makes it possible to recover data quickly in the event of malicious attacks or system malfunctions.
Best of breed. A software is called best of breed when it vertically addresses a single HR process instead of multiple processes (HRM software). This is the case for many ATS solutions.
Biometric. A system is defined as biometric when it has the purpose of recognizing a person based on their physiological or behavioral characteristics. In the world of attendance management and access control, there are biometric systems to recognize staff based on their fingerprint or facial recognition. The extent to which these devices are in compliance with privacy regulations is still a subject of discussion.
Blockchain. A technology typically associated with cryptocurrencies, the blockchain is also used by HR management systems. Its strength is its ability to preserve data integrity.
Boolean operators. Many HR software programs allow users to perform targeted searches within company databases – such as candidate or employee databases – using logical operators. A search in which the operator OR is entered between the keywords "engineer" and "architect" will return results that contain either word.
BYOD. Bring Your Own Device. A company policy that allows workers to use their own personal devices for work purposes. It requires great care on the part of the IT department to avoid exposing the company to cyber-attacks.
Chatbot. Software that simulates a conversation with another human being. In the HR industry, it is typically used on career sites to guide users through the application process or to answer employee concerns and frequently asked questions.
Cloud computing. A paradigm of IT service delivery that has revolutionized the HR industry as well. Cloud software is now supplanting locally installed systems.
Company page. Platforms like Indeed and LinkedIn allow companies to create representative pages to use for their employer branding and recruiting efforts.
CRM. Customer Relationship Management. An acronym used to identify customer relationship management software. Many ATS systems have an integrated CRM to meet the needs of recruitment companies. A number of companies prefer to integrate their CRM with the HRM platform to share data.
Disaster Recovery. In addition to backup functionality, for an HR vendor to be fully reliable, it must put in place a number of technological and organizational measures to be able to restore systems, data and infrastructure following a major disaster.
Employee Portal. In an HR system, the employee portal allows employees – provided with personal access credentials – to receive communications from the company and exchange documents. It is an effective tool for distributing pay slips.
ERP. Enterprise Resource Planning. A management software that companies use to integrate all business functions and manage their daily activities. This is frequently integrated with HRM systems.
Flat file. A way of exchanging information between different software, and thus a way of integrating them. Today, an API is preferred.
FTP. File Transfer Protocol. A protocol for the transmission of data, often used for the configuration and data collection of attendance terminals.
HR Analytics. HR Analytics is the process of collecting, analyzing and presenting data linked to HR processes.
HRMS/HCM/HRIS. Human Resources Management System/Human Capital Management/Human Resource Information System. These acronyms describe integrated software solutions that combine several HR processes into a single integrated system. The differences between these various types of systems, which were initially quite clear, have gradually narrowed, so much so that the providers now tend to use these acronyms as synonyms.
IaaS. Infrastructure as a Service. Most HR software in the cloud is hosted on virtual machines whose reliability should be verified. The two most important providers in the world are Microsoft Azure and Amazon AWS.
Job slot. On LinkedIn, job slots are a resource accessed by those who have a LinkedIn Recruiter contract that allows them to post job ads on this social network.
KPI. Key Performance Indicator. A fundamental statistic tracked over time to evaluate the evolution of individual or company performance. Some examples of KPIs in Human Resources are turnover and time to hire.
LMS. Learning Management System. An HR software dedicated to the organization of corporate training and content delivery.
Machine learning. A branch of artificial intelligence thanks to which many of the AI algorithms on the market today have been developed.
Micro learning. A learning modality that favors the breaking up of teaching material into short courses to be "consumed" in equally short sessions.
Mobile learning. Training content designed to be used via smartphone.
Multiposting. One of the most distinctive features of ATS solutions, multiposting allows you to post your company vacancies on a dense network of job portals and social networks.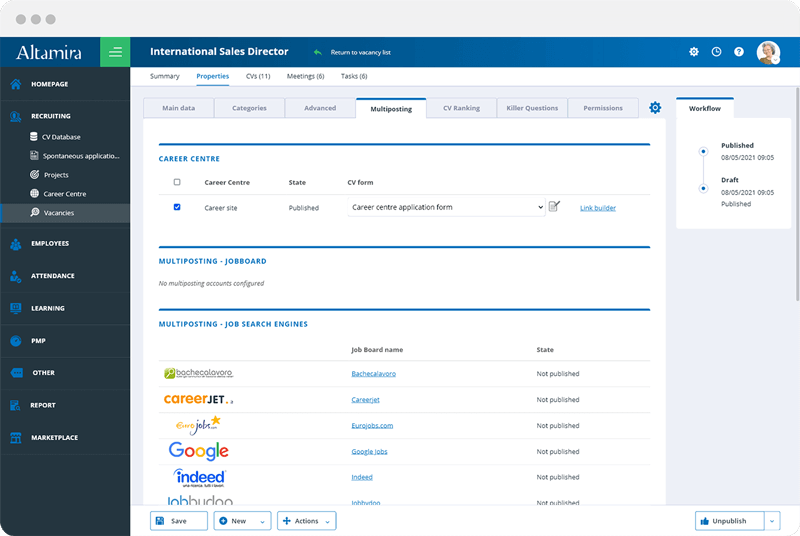 Altamira Recruiting multiposting allows you to instantly replicate vacancies on search metasearch engines, job boards, social networks, external and internal career sites.
On premise. It used to be that all management software was installed locally on company servers and computers. Today, this category of applications has been almost completely replaced by cloud-based software, which is more flexible and secure.
People Analytics. Synonymous with HR Analytics.
Performance Management System. A software dedicated to the measurement of employee performance, starting from the assignment of objectives and/or competencies up to their evaluation and the establishment of actions for development.
Pilot. In complex digitization processes, the pilot phase consists of a period of experimentation in which the new software is used by only a fraction of the staff in order to refine its configuration.
PoE. Power over Ethernet. A technology also used in attendance monitoring terminals, which allows the device to be powered via a network cable. This eliminates the need to install the device near an electrical outlet.
Responsive. A web design technique to create websites – and web apps like Altamira HRM – that can adapt to the device being employed by the user.
SaaS. Software as a Service. This is the service model through which most HR software vendors like Altamira provide their software in the cloud.
SCORM. Shareable Content Object Reference Model. A standard used for e-learning content that, among other things, allows one to track the actual delivery of a course.
Self service. Self service HR software is defined as a non-centralized system where each employee has their own account and can interact with the platform.
SSO. Single sign-on. Single sign-on allows a user to undergo a single authentication to use multiple systems. If your HR software has this feature, you could, for example, link it to Microsoft 365 authentication.
TMS. Talent Management System. A system that allows one to follow the selection, development and evaluation processes for an employee in a single environment.
UI/UX. User Interface/User Experience. User interface and user experience are two different notions to keep in mind when selecting HR software. Their quality is directly proportional to the ease with which the software will be adopted and used in the company.
Workflow. The "workflow" of an IT system allows a process to be broken down into different activities to improve efficiency. These activities can also take place automatically when certain conditions are met. Workflow in the HR world is used, for example, to reproduce the company's selection process.
Copyright: ©TarikVision/Adobe Stock