In the world of HR Tech, workflow management systems are becoming more and more important.
This is why these systems, which have always been fundamental to project management, are now an integral part of the most modern human resources management software.
In the HR sector as well, you can benefit from organizing processes into a flow of data and activities that follow a set path. With a workflow management system, you can automate repetitive tasks, involve all stakeholders in a process at the right time, establish approval flows, increase control over processes and make them more efficient.
There are many HR processes to which this technology can be applied, with clear benefits for both simple tasks and more complex or delicate ones.
The benefits of a Workflow Management System for HR
Digitizing HR processes with a Workflow Management System offers several benefits for a company:
Process definition. A digital workflow is an exercise in putting down on paper every aspect and step of a process. As a result, a process governed by a digital workflow always meets certain standards. This improves consistency and adherence to internal policies and reduces the risk of errors, forgetfulness and favoritism.
Increased collaboration. Processes that involve multiple people, especially if they belong to different areas of the business, can get bogged down. A workflow clearly defines the roles and activities of everyone involved in the process and calls them in at the right time, encouraging collaboration and bypassing any company silos.
Saving time. Many tasks are automated, as well as all the coordination and communication work between departments, resulting in significant time saving.
Reliability. Employees can be confident that the process is going as planned and that their requests are getting through to the right people. With a workflow, you can also set up automated feedback, for example, for candidates who have submitted a CV or for an employee who has been enrolled in a training course.
Meeting deadlines. Workflow management systems include automated notification systems that keep participants up-to-date and informed about upcoming tasks so that deadlines are always met.
Automatic archiving. It is always useful to keep a record of the activities carried out, whether in simple processes, such as the establishment of the vacation plan, or in more delicate areas, such as the assignment of personal protective equipment or the delivery of pay slips.
Compliance with approval flows. When HR processes are governed by a digital workflow, you can be sure that approval flows and business hierarchies are respected. The most customizable HR software allows you to establish complex and differentiated approval flows for each process. For example, the person who approves an employee's vacation time may not be the same person who evaluates their performance or enrolls them in training.
Examples of workflows in Human Resources:
Let's look at some examples of HR processes that a workflow management system can fit into:
Recruitment process
The recruiting process of any company includes several phases through which candidates must pass, as well as the involvement of several people (candidates, recruiters, hiring managers, etc.) and the performance of several different activities (exchange of documents, management of touch points with the candidate, addition of evaluations, etc.). As a result, the use of a workflow management system brings many advantages in terms of time saving, accuracy and candidate involvement. The important thing is to have a highly customizable system that allows you to recreate the selection process in use at your company. The workflow also serves to build a job requisition process in the company, giving managers the ability to request the start of a job search with a few clicks.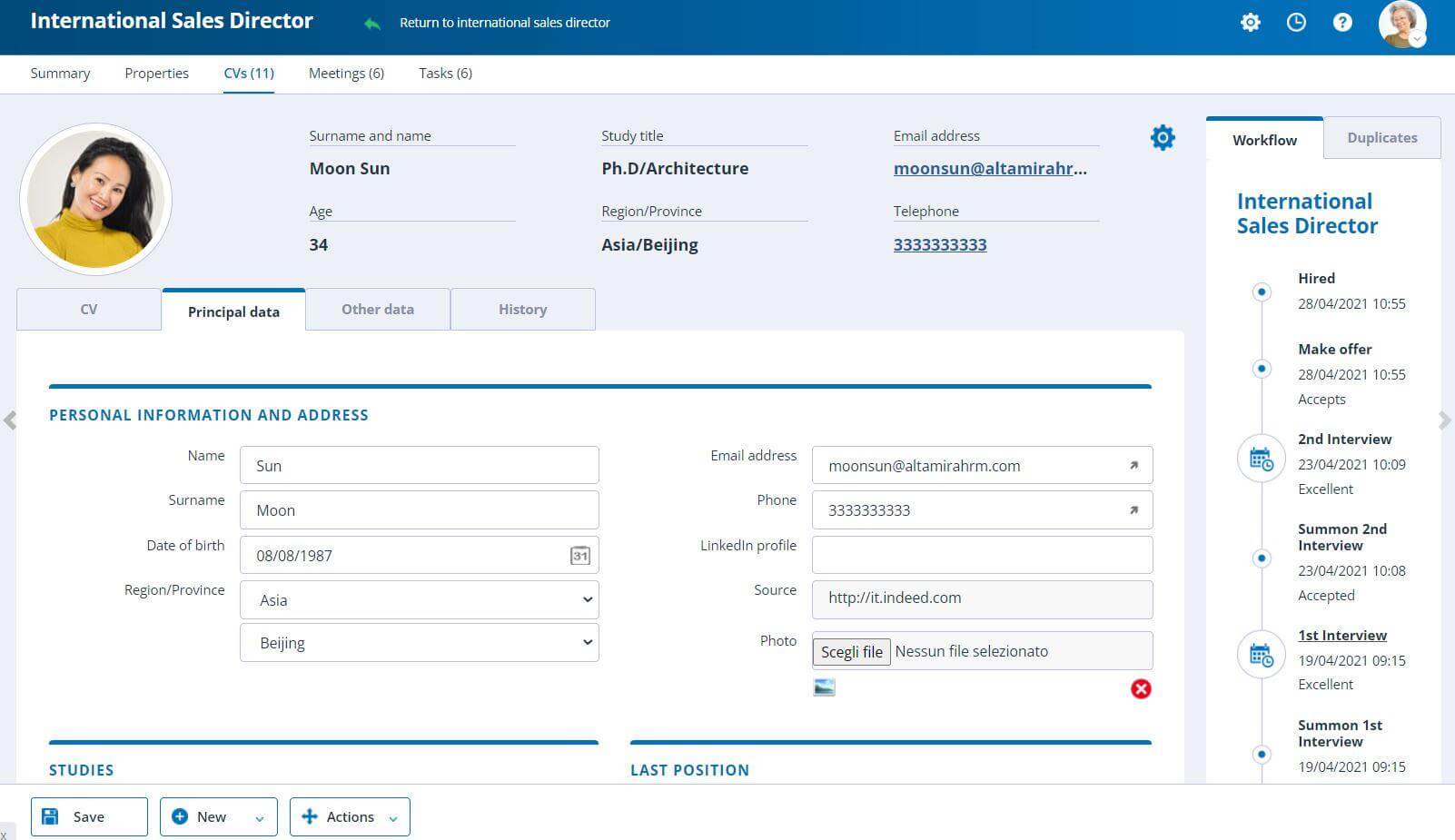 Onboarding
An increasingly urgent need in companies over the past couple of years – due in part to the increase in staff working remotely – is to digitize the stages of introducing a new employee into the company, so that they can be done online and in a systematic manner as much as possible.
This can be done with the support of a workflow, which informs the various departments involved (e.g. HR and IT) and keeps track of everything.
Vacation and Leave
Requesting vacations and leave time is a relatively simple process, but one which, if not digitized with a workflow, can still be time-consuming for all involved.
Again, a workflow management system offers a number of advantages: the certainty that the request will reach the right recipient, the sending of automatic notifications to managers and human resources personnel in real time, the collection of the right information and documentation for each type of absence (paid leave, parental leave, blood donation, etc.), compliance with company policy, etc.
Expense Reports
The submission of expense reports can also be digitized using a workflow. The most advanced systems provide different approval paths and data collection forms for each type of expense, perform automatic calculations and are integrated with payroll software.
Performance management
The evaluation process can likewise be digitized with the support of a workflow, and this is what many companies chose to do after the lockdown hit. A workflow takes both the evaluator and evaluated through all the stages of the evaluation process, keeping engagement high with automated notifications and automatically performing calculations on the attainment of quantitative goals and bonuses.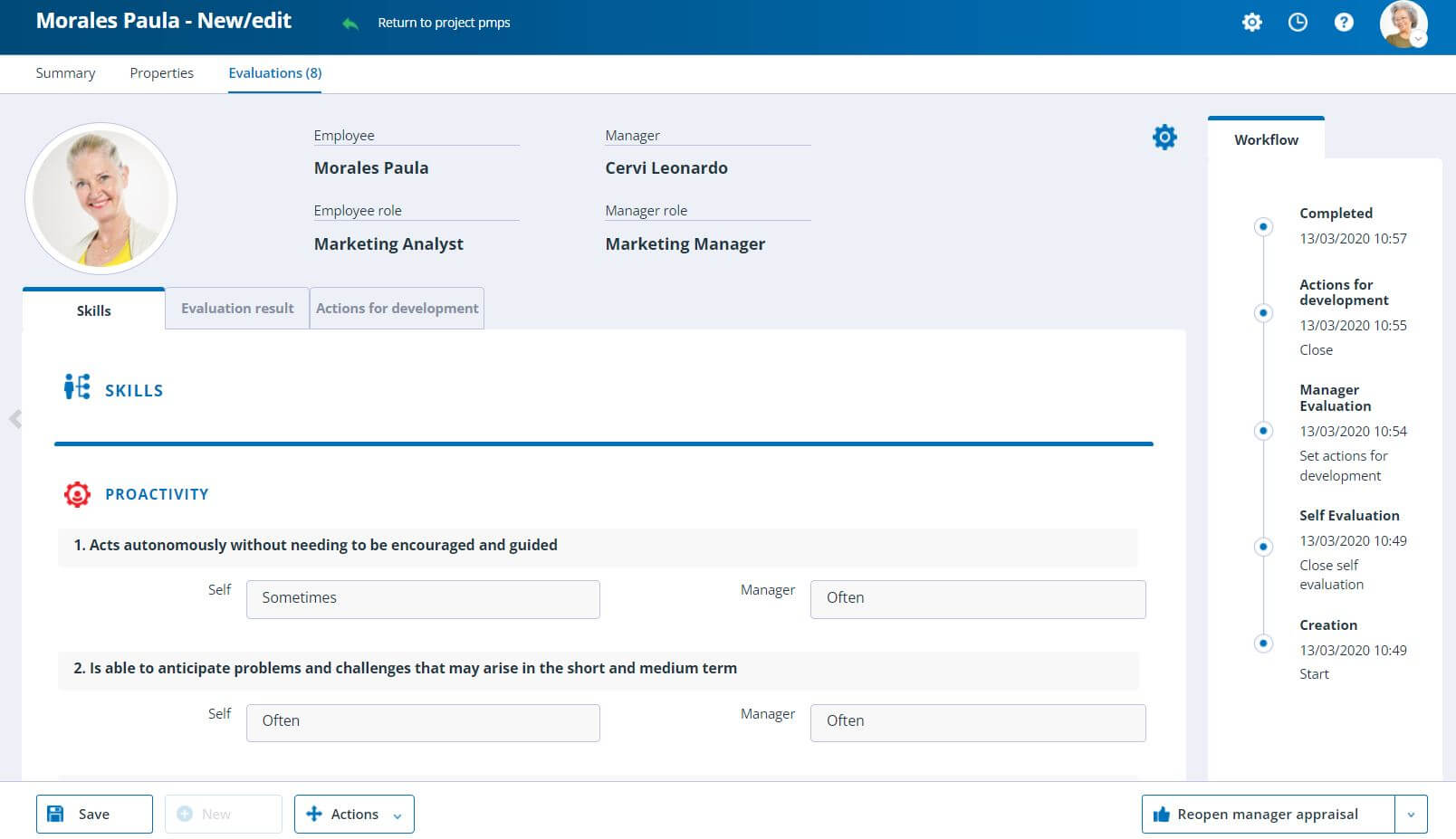 Automated workflows are useful for regulating many other HR processes, such as taking
disciplinary actions
, delivering
training courses
,
electronically signing documents
and
offboarding activities
(planning and conducting exit interviews, deactivating company accounts, returning personal benefits and PPE, etc.).