Once they go above the dimensions of a micro company, many organizations feel the need to equip themselves with an HR platform with which they can organize and manage information and processes related to personnel. It is a need that has become urgent from 2020 in order to implement hybrid work policies.
With staff no longer always present within the four walls of an office, having a shared digital environment is even more important. It allows you to access the information and documents you need at any time and to carry out interactive processes between administration, human resources, managers and employees.
If that is absent, so many processes become inefficient and employees suffer from a lack of transparency and engagement.
If you're looking for an HR platform for your business, here are some parameters on which to evaluate the options you'll find on the market.
Completeness
There are many HR platforms on the market with different features, which can support you in more or fewer areas of HR management.
The completeness of an HR platform is an important selection criterion. The fewer different systems you introduce in your company, the higher the adoption and use rate will be. In addition, the presence of so much data and information in a single database allows you to create advanced statistics and reports that help you make the right decisions.
Here are some of the most important features an HR platform can offer you:
Employee database. The HR platform stores employee data and information and allows them to update it independently.
Company bulletin board. Thanks to this feature, the company can easily send communications to all employees.
Document archive. The digitization of HR processes cannot do without a virtual document archive that allows you to set expiration deadlines and perform targeted searches.
Onboarding. The system supports the human resources department in the onboarding of new personnel, including the collection of documentation and the performance of tasks.
Time management. Through the HR platform, an employee can manage their time at the company: clocking in, requesting holidays and leave, accruing overtime, etc.
Timesheet. The timesheet allows employees to track the time spent on each task. A very useful feature to evaluate the profitability of jobs and projects.
Training. Being able to also organize employee training in the same environment adds further value to an HR software. Staff should be able to register for courses and enjoy the training materials, or even stream courses, all from the HR platform.
Performance management. Some platforms allow you to digitize evaluation processes: a must in the era of hybrid work.
Recruiting. The most comprehensive HR platforms also include the digitization of search and selection processes. Thus, hired candidates are turned into employees without the need to collect a good deal of information all over again.
Check how many of these features are present in the platforms you are evaluating and what other processes they can support you in.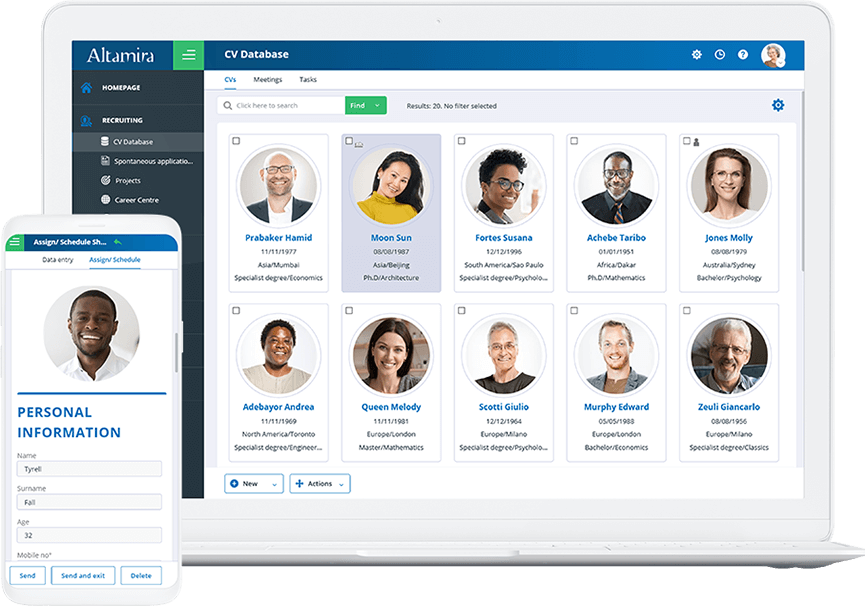 Customization Capabilities
The differences between one company and another are so vast that it is impossible to think that a static or not very customizable tool can fully meet the needs of each of them.
So the ability to customize fields, labels, lists, processes and workflows becomes paramount when choosing an HR platform.
If you opt for a tool with this feature, during the initial configuration phase you will have the opportunity to make the desired changes with the help of the supplier's technical consultants. Later, if the customization tools are user-friendly enough, you can make further changes to adapt the system to new needs.
This doesn't mean that you have to get hands-on with every aspect of the chosen system, also because customizations often need to be paid for and lengthen implementation times.
Many HR platforms start with standard configurations that are well suited to the needs of many SMBs.
Try to understand the level of customization possible in each system you're evaluating, and its cost.
Ease of use
When choosing a platform for managing HR processes, it can be tempting to place too much emphasis on its appearance. But while beautiful graphics in a system are truly appreciated, as they make using it more pleasant, greater weight should be given to ease of use.
Particular attention should be paid to how intuitive the navigation is even without training. Employees will only use it sporadically and should be able to find their way around without having to refer to the manual each time.
Do a test of the usability of the different HR platforms by independently navigating a demo environment.
Attention to mobile devices
For an HR platform, the ability to be used from mobile devices has always been important. Think of the convenience of clocking out while away from your smartphone, or requesting time off while traveling by train.
With the spread of smart working, this feature is even more important.
So, make sure that the solution you want to adopt is usable from these devices, and in what way.
Some vendors offer native apps for Android and iOS, others provide a web app that is accessed through a browser, and still others provide both solutions.
Since there are advantages and disadvantages to using native and web apps, the last option is the one to be preferred.
Have them show you the platform's performance on mobile.
Guaranteed level of availability
The more prominence you give to the HR platform in the management of business processes, the greater the problems caused by any malfunctions or periods of unavailability.
Thus, it is better to protect yourself by checking what are the service levels guaranteed by the contract and what are those actually maintained by the platform during the last year.
Ask what the HR solution's SLA is for each vendor.
SSO
What could be better than handing employees a tool to manage all HR processes with just one username and password to remember?
Use a solution with single sign-on, so that employees can use the same credentials as for other services they have already adopted, such as Microsoft 365!
This is not just a convenience for the HR department and employees. Corporate IT will also be happy to have fewer credentials to activate and deactivate when an employee is hired or let go.
Verify that the system you are evaluating has SSO.
Integration
Even the most complete HR platform can benefit from integration with other business management systems. A typical integration is one with the payroll software of the employment manager, from which it will receive the pay slips and to which it will send the data on employee attendance.
Or it could communicate with the company CRM to link customer orders to selection projects or for employee activity reporting.
Another frequent integration is with the company ERP.
The HR platform of choice should therefore provide APIs for fast and deep integrations with other digital systems.
Make sure you choose an "open" platform.
Workflow management
There are HR processes for which it is important to track every step, send reminders, provide approvals and involve multiple stakeholders.
Therefore, the best HR platforms have developed workflow management tools that cover these and other needs and automate complex or sensitive HR processes.
A workflow can manage, for example, the process of assigning personal protective equipment, to ascertain whether it has been delivered and on what date, and to check whether it is still in the hands of the employee.
Other workflows can be dedicated to medical examinations, digitizing the selection process or evaluation processes, to make sure they are completed by all managers on time.
Ask the HR Tech vendor if the system has customizable workflows.
Compliance
Given the amount of personal and sensitive data that an HR platform hosts, it is imperative that it should provide tools to manage it in accordance with data processing regulations, such as GDPR.
Automated workflows that ensure compliance with data retention periods are very useful, especially when managing candidate profiles.
Make sure tools are in place to manage GDPR compliance.
Benefits for all users
An HR platform must benefit all categories of users. Otherwise, the risk is that the process of introducing this technology into the company will come to an abrupt halt.
Benefits for the HR department
On the one hand, the HR platform must centralize information and processes and give the HR department the ability to manage every aspect of the work lives of employees. On the other hand, it must give enough autonomy to staff so that they can perform many tasks in a self-service mode, reducing the workload on the HR department.
Benefits for the employee
A good HR platform needs to be rich in features and options for the HR department – which has many processes to manage – but remain streamlined and intuitive for the employee, who needs to perform fewer actions and log in less frequently. For the employee, the quality of the mobile experience is especially important.
Benefits for managers
For managers, an HR platform should give them the ability to better organize their team's work. This is done by structuring a shared vacation calendar to ensure that important activities are not left undone, tracking time spent on projects, suggesting training courses and evaluating the performance of direct reports.
Benefits for the administration
Administrative tasks – primarily time- and attendance-related – are often complex and repetitive. A good HR platform must therefore be expansive enough to support very complex processes, and at the same time agile enough to streamline and speed up work.
Copyright: ©tomertu/Adobe Stock