Harnessing the power of technology has empowered HR departments and administrations to modernize their processes, improving transparency and efficiency while fostering employee engagement.
Today, employees can conveniently clock in with a simple click through their app, effortlessly access their pay stubs on the employee portal, and swiftly request vacations and personal time off.
Expense management, a critical and interactive process involving employees, managers, and administration, can also benefit significantly from the adoption of cutting-edge software, especially when integrated into a comprehensive personnel management solution.
In this article, we will delve into the intricacies of expense management and explore the myriad of benefits it can reap from digital transformation.
What is an Expense Report
After a period of slowdown due to the pandemic, the topic of expense management has regained significant relevance in many companies. The employees' return to the office, which continues to unfold as companies backtrack on hybrid work policies, has once again resulted in a surge in corporate travel.
It is precisely during a business trip (but not exclusively) that employees may incur expenses that need to be reimbursed by the company. To do so, employees are required to fill out an expense report, a document provided by the employer that includes essential details and supporting documentation for the expenses incurred.
Expense reports, whether in paper or digital format, typically include the following details:
Employee's personal information
Company's information
Date of submission
Date of the business trip or expense report
List of incurred expenses
Payment method
Partial amounts
Total amount
The administration is responsible for granting the final approval for expense reports, while also ensuring that the essential data is effectively communicated for the reimbursement to be processed in the payroll system.
Common examples of expenses incurred during business trips that are typically reimbursed through expense reports include:
Meals
Accommodation
Toll fees
Fuel costs
Mileage expenses
Mileage reimbursement is computed by assigning a specific value to each kilometer traveled by the employee, encompassing fuel and vehicle maintenance costs.
Types of Expense Reimbursement
Not all companies choose to promptly reimburse each individual expense upon submission of supporting documentation. In fact, there are two alternative reimbursement approaches that can be adopted: flat-rate reimbursement and mixed reimbursement.
Flat-rate reimbursement involves the company providing the employee on a business trip with a standard daily amount without requiring receipts for meals and accommodations.
On the other hand, mixed reimbursement, as the name suggests, involves some expenses being covered by a daily allowance, while others are reimbursed individually upon submission of receipts.
The Limitations of "Manual" Expense Management
Historically, expense reports have been handled using cumbersome paper documents that required employees to fill up forms and submit them to the administration alongside physical receipts, invoices, and bills.
While minor advancements have been made with the adoption of digital formats such as Word and Excel, as well as the inclusion of receipt photos or scans, the management of expense reports without dedicated digital tools continues to pose substantial limitations.
Here are some of the main ones:
Time-consuming for everyone involved
The process of filling out expense reports using Word or Excel documents is undeniably time-consuming for employees. The multitude of often repetitive data fields requires meticulous input and calculation, leaving room for potential errors. Complex company policies regarding expense reports can further complicate matters and cause delays.
The filled-up reports then have to be shared via email with managers and/or the administration, along with photos or scans of relevant receipts for verification. This operation typically takes place after returning from a business trip, heightening the risk of misplacing essential documents.
In certain companies and positions, expense reports require managerial approval, leading to potentially lengthy response times. Reviewing and approving expenses becomes a time-consuming task for managers as they navigate the laborious process of sifting through multiple emails and attachments. Subsequently, managers are tasked with relaying the approved expenses to the administration.
Such an approach to expense management places a substantial burden on the administration as well. Employee expense reports are shared through separate emails, each containing files that need to be downloaded, reviewed, and archived individually. This fragmented process increases the likelihood of miscalculations and data transfer errors, while discrepancies or omissions could go unnoticed for weeks. This may require asking the employee for modifications, which in turn triggers a complete restart of the entire management workflow.
Leads to Numerous Errors
The manual input of such a significant volume of data and figures by employees, coupled with managerial reviews and the final involvement of the administration, can lead to errors, especially in the presence of complex company policies.
Detecting these errors using tools like Word or Excel is extremely challenging. In many cases, the unnoticed oversights have a direct impact on critical documents such as pay stubs, affecting both employee earnings and company expenses.
Prevents In-Depth Analysis
The main drawback of this personnel administration system is its complete lack of comprehensive expense reporting, preventing a clear understanding of how much the company is spending on individual clients, projects, business units, or employees. To gain these valuable insights, the administration and HR department need to dedicate more time and effort to analyzing the data, which also brings the potential for new errors.
Furthermore, the absence of an activity tracking system makes it exceptionally challenging to identify the causes of errors and inconsistencies, resulting in a substantial time commitment for each necessary correction.
Lacks Transparency
Once an expense report is submitted, employees are left in the dark regarding its approval status until the reimbursement is reflected in their pay stub.
Depending on the lengthiness of administrative procedures, the reimbursement may take up to two months and, at that point, identifying potential errors in a complex document like the pay stub is not as straightforward.
Surely, such an approach does not create a pleasant experience for employees.
Security concerns
Exchanging documents through email and storing files on local network folders poses risks of data loss or corruption, as well as unauthorized personnel access to the data.
The benefits of digitizing expense reports
The perceived need among countless companies to simplify, enhance, and expedite the expense reporting process has resulted in the proliferation of many modern software solutions for expense management. These solutions are delivered through cloud platforms, allowing for maximum interaction and transparency. The most advanced and valuable solutions offer a range of features, including:
Approval workflows with automated notifications
Automated implementation of company policies
Multiple currencies support
Native app for seamless smartphone use
AI-powered receipt recognition
Mileage calculation using Google Maps
Robust reporting engine
These features, combined with a user-friendly interface and a system for cataloging company vehicles, offer numerous benefits to employees, managers, and administration.
Here are some of the most notable ones:
Time Saved
A cloud-based expense management platform empowers all stakeholders to save valuable time when it comes to uploading, reviewing, and approving reimbursement requests.
The forms are pre-filled with extensive information, and the calculation automatically handled by the platform.
A digital workflow streamlines the submission and approval of expense reports, ensuring timely notifications to all those involved. Additionally, receipts are automatically archived, and all data is easily searchable by the administration.
Crucially, the presence of a user-friendly native app and an automated receipt recognition system significantly reduces the effort employees need to put in to complete the process. All it's needed is to take a photo of the payment receipts for the system to generate a pre-populated form with all the relevant data.
Numerous providers have attempted to quantify the time saved through the use of expense management software. For example, according to a survey conducted by Nintext, 75% of companies that implemented a digital expense management tool reported saving 5 to 10 hours per week.
Of course, the actual time saved depends on the number of business trips taken by employees throughout the year. The more frequent the trips, the more noticeable the benefits of employing such a tool.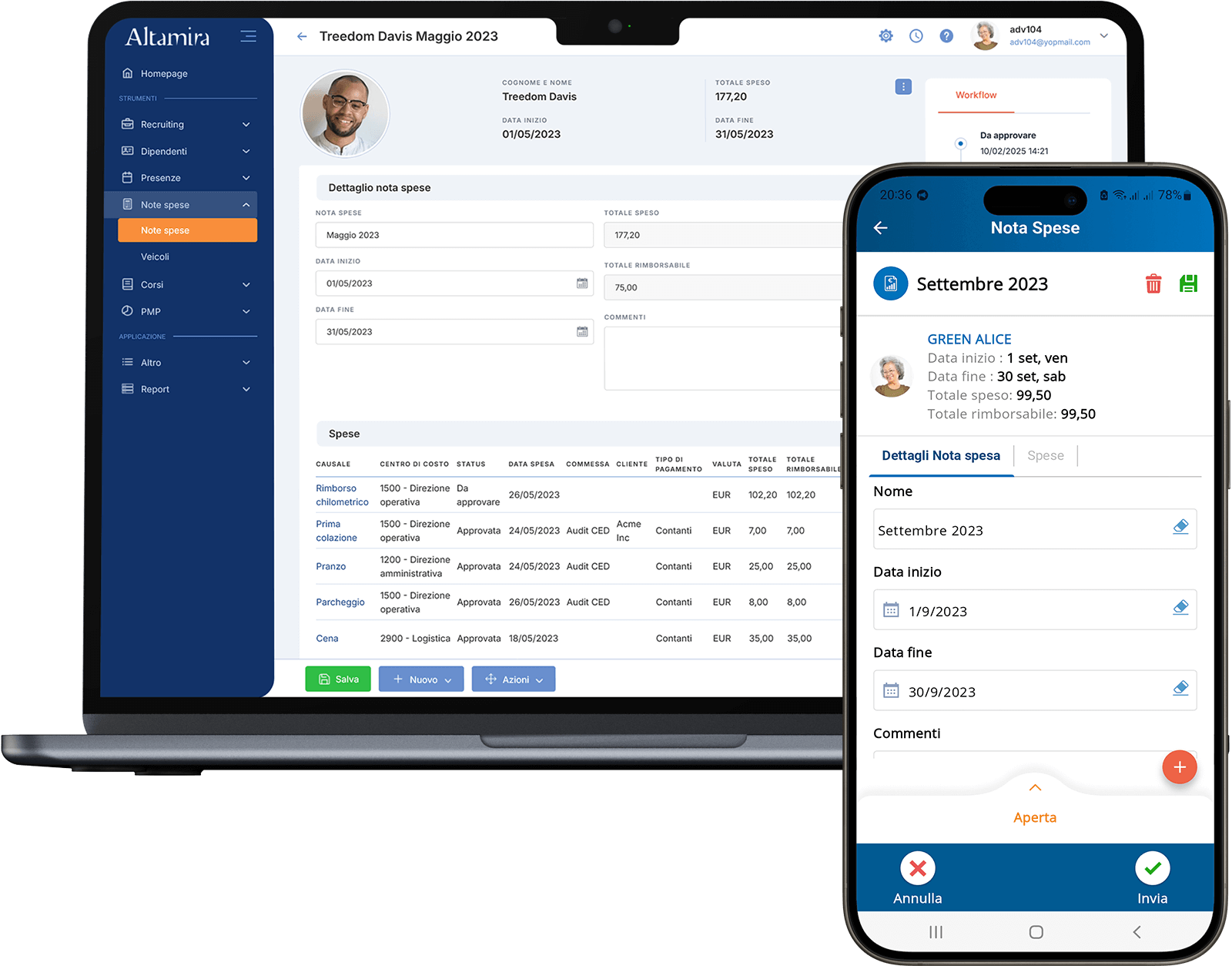 Precision and Speed
Reducing the need for manual data entry not only increases data accuracy but also minimizes errors.
Calculations, sometimes complex as in the case of mileage reimbursement or detailed procedures, are automatically performed by the platform, taking into account company policies. For instance, if a company has established a maximum reimbursement limit of €30 for a business lunch, the software will accurately calculate the reimbursement based on this preset limit, even if the employee submits a receipt for €40.
Companies often have complex policies that employees may overlook, resulting in denied reimbursements they were expecting and counting on. However, modern systems can dynamically apply policies to requests, showing in real-time which expenses will be reimbursed and to what extent, while also flagging any missing information required for the process to be completed successfully. This way, the administration won't need to contact the employees, sometimes weeks after the submission, to request missing documents and information to rectify an incomplete expense report.
Furthermore, it becomes easy to allocate each expense to a specific project or client, resulting in more precise and detailed expense reports.
Finally, the availability of a smartphone app allows for real-time expense entry, streamlining the approval process and reducing the risk of misplacing receipts.
Employee Engagement
Modern HR software has revolutionized administrative processes, offering employees clear, efficient, and transparent interactions. Thanks to user-friendly apps and employee portals, payroll information is easily accessible, vacation requests can be submitted within seconds, and clock-ins are streamlined with advanced tools like geofencing, QR codes, beacons, and biometric recognition.
Expense management, a critical process directly impacting employee earnings, should also be a streamlined process. User experience is central in expense management, as employees are not only asked to bear upfront expenses, but are also required to undergo further bureaucratic efforts in order to obtain their reimbursement.
By implementing an up-to-date expense management system that is user-friendly and transparent, companies can also significantly improve talent retention, particularly among younger generations who place great importance on the quality of technological tools provided by their employers.
Safety
Cloud-based expense management systems store data and documents on highly secure and compliant infrastructures. These platforms employ encryption tools, backups, disaster recovery mechanisms, and advanced access management, offering a significantly more secure solution than email inboxes and local network folders.
Why Choose an HRM Platform for Expense Management
Historically, digital solutions for expense management have been standalone applications, usually interfacing exclusively with the payroll software to share necessary data for pay stub generation.
Fast forward to now, and these platforms have evolved to become integral components of leading HRM suites.
The synergies between expense management and other administrative functions have become increasingly apparent, along with the significant benefits of cross-referencing expense data with other HR and administrative modules.
This consolidated approach delivers significant benefits to a wide range of users, from frequent business travelers to employees who only need to submit a handful of expense reports annually. An HRM suite has the capability to harness a treasure trove of data, trimming away precious minutes from each expense report submission. Additionally, thanks to its consistent interface, even occasional users of the expense module will be able to navigate through the system effortlessly. Finally, there is no need for employees to recall specific company reimbursement policies as they are automatically enforced by the system.
Ultimately, the administration and HR team will reap the advantages of a unified tool, capable of streamlining all workforce management while offering the ability to conduct in-depth analysis on all the collected data.
Discover the Altamira HRM suite expense management solution!