In recent years, the job search process has seen the rise of a new major player: the smartphone.
Once upon a time, candidates would carefully consider the positions to which they wanted to apply and send in their resumes by post over the weekend, most likely after browsing the job ads section in the local newspapers. Today, however, those of the youngest generations take it for granted that they should be able to fill in a job application in minutes using their mobile phone.
And they actually do it more often than we might think.
The numbers collected by many job sites in recent years, and the statistics we have collected from the career sites we manage (see below), show clearly that the number of applications made via mobile devices is on par with—and often exceeds—the number of applications made from desktop computers.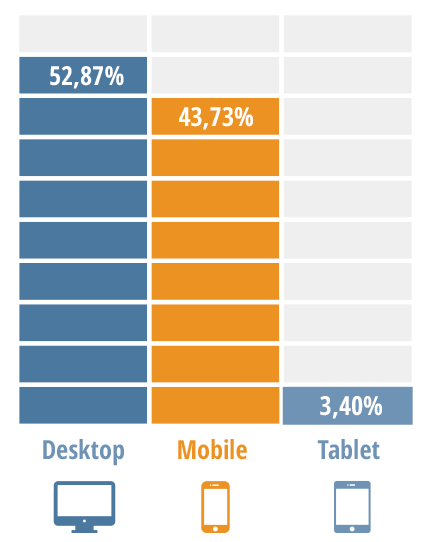 This also means that companies—especially those that choose to use their career site as a hub towards which they direct all the channels involved in the candidate search—have to adjust their career pages to make them mobile-friendly, or they risk losing many valuable applications.
In order to be mobile-friendly, a career page must meet all the following requirements:
A responsive layout, meaning a design that can dynamically adapt to the size and orientation of any device from which the job candidate may be visiting the site.
An advanced content management system. An excessive amount of text can discourage users who are visiting the page from smartphones; accordingly, the page should be able to easily display images and video.
A navigation process—and thus an application process—that is linear and foolproof.
A lot of attention given to the placement of the key buttons, which must be clearly visible and easy to press.
An application form with a limited number of fields. For a more in-depth look at this issue, read this article about application forms.
Not having a career site that meets these requirements means you can be certain of one thing: you'll be missing out on a lot of applications.
When you're choosing a provider for your recruiting software, make sure they are also offering you a mobile-friendly career site!
Copyright: ©F8studio/Fotolia