2021 was another record year for Altamira, with over 70 clients acquired in Italy and abroad and many companies progressively expanding the number of modules they're using to centralize HR management on our platform.
These results would not have been possible without continuous work on innovation that will continue with even greater impetus in 2022, thanks to the expansion of our development team.
Here's a quick roundup of the major changes introduced in 2021.
Altamira HRM native App
Currently in an in-depth beta testing phase with some customers, our native app will be soon available in the iOS and Android stores.
The Altamira HRM app puts the employee at the center, allowing them to perform any action that affects them quickly and easily.
At the moment, the mobile app is focused on clock-ins/outs and absence management, but over the course of 2022 it will make it possible to accomplish more and more processes.
It will be used, for example, to receive company communications, easily view pay slips, use the timesheet, sign up for training courses, etc.
The Timesheet
Hybrid work has increased the need to track the time employees spend on certain activities.
Our timesheet system, which has become part of the Employees module, allows you to do this easily and in a self-service manner. You can calculate the profitability of projects and orders and send detailed reports of your activities to your clients.
The system can also be linked to Altamira Attendance.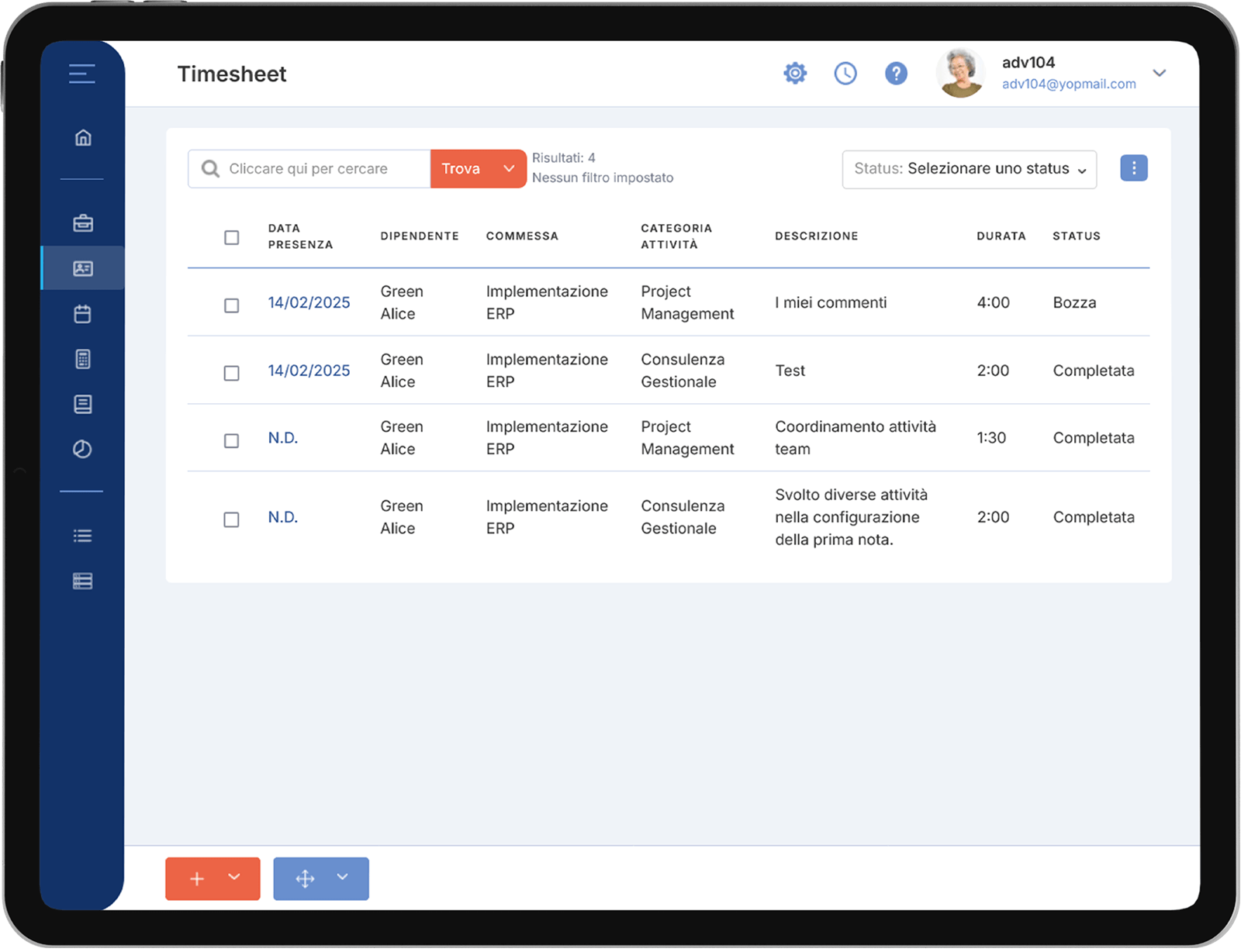 Workflow Management System
During 2021, Altamira HRM's workflow system evolved to such an extent that our platform became a true Workflow Management System.
This means it can digitize complex business processes, using deep automation.
Over the course of this year, we introduced workflows into important parts of the platform, such as employee lifecycle management, course creation and disciplinary processes.
In 2022, we will continue to add workflows to the processes that can benefit from this technology.
New evaluation models
In 2021, we expanded the number of standard evaluation models in Altamira Performance, all of which can be customized to meet client needs.
The current models are as follows:
MBO evaluation
Skills evaluation through observable behaviors
"Simple" skills evaluation
Skills and objectives evaluation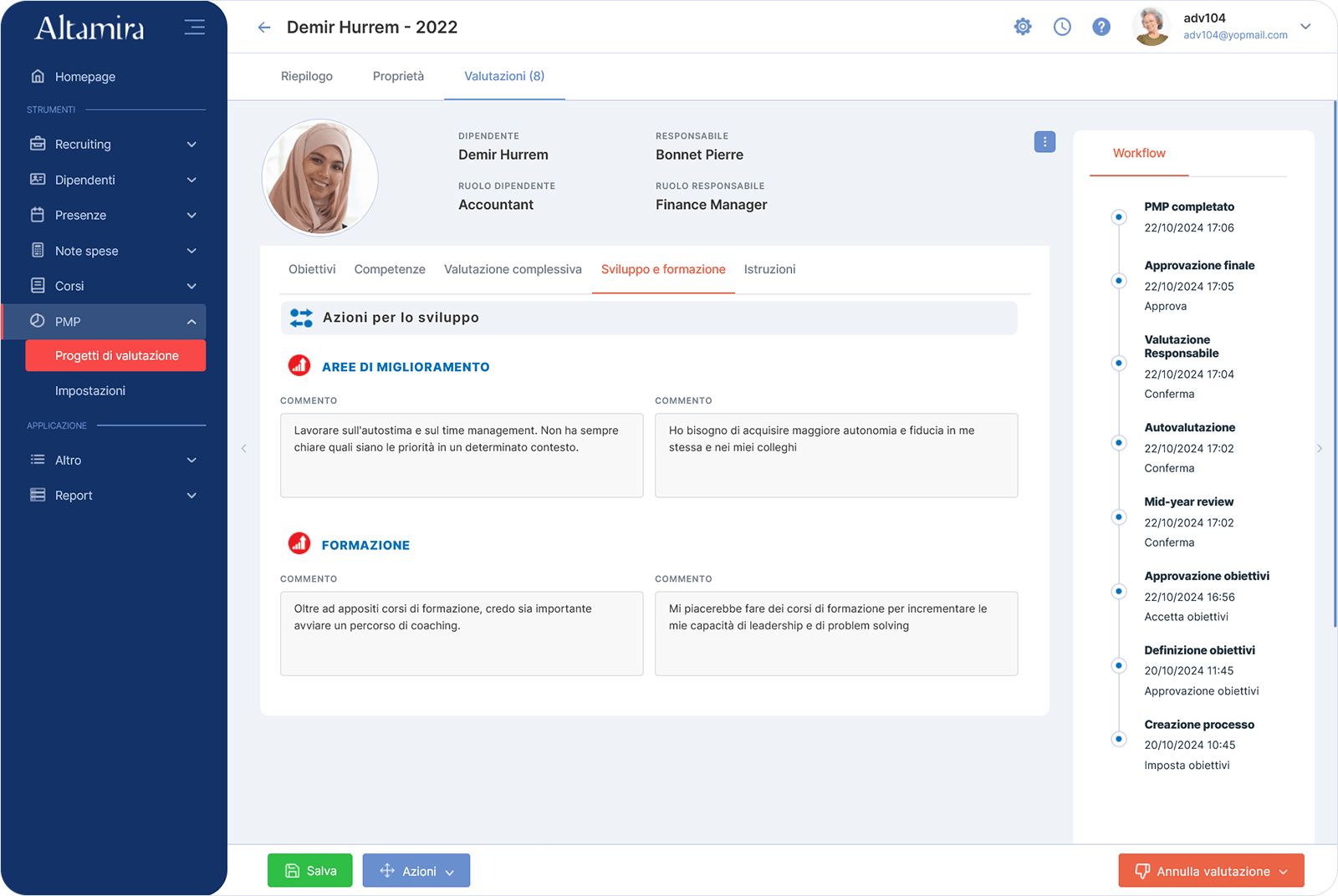 Altamira Learning
In anticipation of eLearning, scheduled for 2022, our training management module has become more sophisticated, with new sections dedicated to lessons and classrooms, an improved enrollment mechanism and a new user experience for trainers.
More new additions are planned for early next year.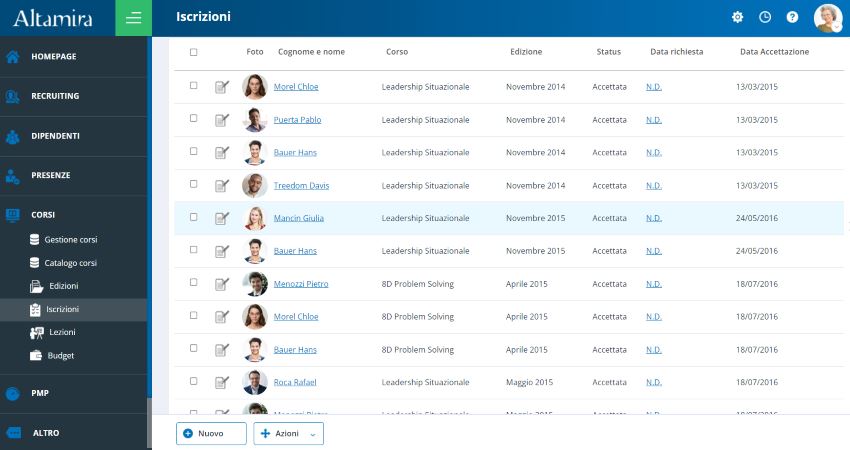 Altamira Attendance
This year, like before, the Attendance module has received many updates in response to the new and sophisticated needs of our customers. Some of the enhancements include an enriched time bank system, improved performance, the ability to add a reason for clocking in and out and greater support for smart working.
Plenty of minor new additions
Over the course of the year, we released 45 update packages that contributed to improving our platform. Here are a few new features to highlight:
Email to employees. You can now send communications to your employees directly from Altamira HRM. Multiple sends to multiple persons are possible, and you can take advantage of the organizational chart to deliver messages, for instance, to the managers of a certain group of employees to remind them to proceed with evaluations or approval of vacation requests.
Security. We continue to make improvements to the security of the platform, for example removing iframe and HTTP support for our Career Sites.
Performance. Our software engineers periodically set aside time slots which are dedicated to improving performance. Our platform is handling more and more data for larger and larger companies, and it's important for it to maintain a high processing speed.
Copyright: ©sinseeho/Adobe Stock