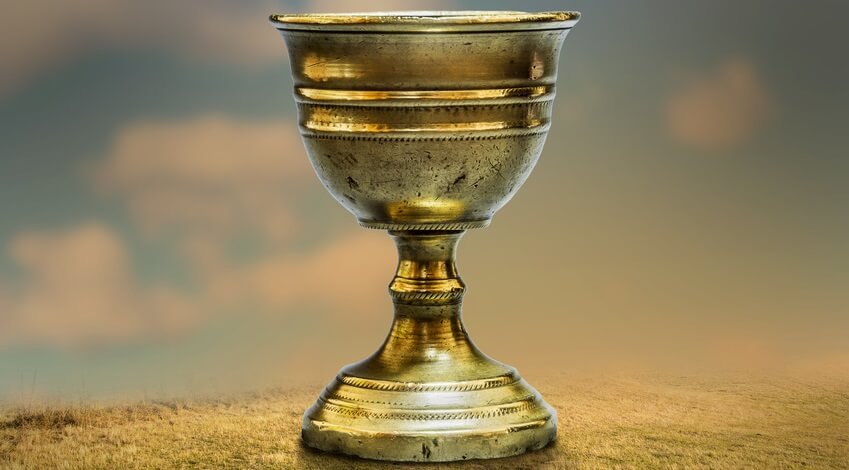 En este blog ya hemos tratado el tema de los índices más útiles para los encargados del reclutamiento.
Hemos visto que el time to hire es probablemente la estadística más utilizada en los departamentos de Búsqueda y Selección de todo el mundo, mientras que el cost to hire, que aparentemente es de vital importancia, presenta demasiadas trabas de cara al cálculo, lo que lo convierten en un índice prácticamente imposible de usar.
Pero el auténtico Santo Grial del reclutador, el índice del que todos querrían disponer en su empresa, es el de la calidad de contratación o quality of hire.
La pregunta principal a la que los reclutadores deberían saber responder es: "¿Estamos contratando a las personas correctas?"
Pero, ¿de verdad se puede medir la calidad de las contrataciones con un único valor?
No exactamente. La calidad de contratación es un índice complejo, fruto de la combinación de varios KPI. Requiere por lo tanto bastante trabajo y un largo período de espera antes de disponer de los primeros resultados.
Pero sin duda, todo el proceso merece la pena.
Cómo se calcula la calidad de contratación
Tal y como ya hemos mencionado, la calidad de contratación se consigue combinando varios índices. Teniendo en cuenta que todas las empresas son distintas, los KPI utilizados también varían. Los más utilizados son:
Evaluación del rendimiento
Retention rate of hire
Hiring manager satisfaction
Compromiso del empleado
Afinidad cultural
Vamos a abordarlas en detalle:
Con evaluación del rendimiento nos referimos a la evaluación de las acciones del empleado pasado un tiempo desde la contratación. Teniendo en cuenta que dichas evaluaciones pueden verse afectadas por la opinión subjetiva del responsable, siempre es mejor fijarlas según objetivos tangibles y fácilmente mensurables.
La retention rate of hire indica el tiempo que el empleado se queda en la empresa. En este caso tampoco estamos hablando de un índice perfecto, ya que los plazos de permanencia del colaborador no solo dependen de lo bien que se realizase la fase de selección. Podrían verse influidos por otros elementos como el proceso de onboarding, la relación con el responsable directo, las ofertas de la competencia, etc.
El hiring manager satisfaction es el índice de satisfacción del responsable con la nueva figura que ha entrado a formar parte de su equipo y se suele obtener con una encuesta. En este caso también existen, evidentemente, problemas de subjetividad.
El compromiso del empleado también es un índice que se suele utilizar para calcular la calidad de contratación y se obtiene mediante una encuesta de autoevaluación.
La identificación de la afinidad cultural se utiliza para comprobar si la nueva figura se ha aclimatado a los valores y a la misión de la empresa. El método más utilizado para obtenerla es mediante una evaluación a 360º que implica a los responsables y compañeros.
Ninguno de estos índices es totalmente objetivo y, precisamente por eso, se obtienen resultados más fiables combinando por lo menos tres de ellos. Es fundamental, sea como sea, utilizar la misma unidad de medida para todas. Por ejemplo, un porcentaje del 1 al 100.
La calidad de contratación se obtiene sumando las puntuaciones de los demás índices y dividiendo el resultado por el número de KPI utilizados.
De este modo, una evaluación del rendimiento con un 90 %, una satisfacción del hiring manager del 80 % y un índice de compromiso del empleado del 85 % tendrían un resultado de calidad de contratación del 85 %, según la fórmula (90 % + 80 % + 85 %) / 3.
Las ventajas de la calidad de contratación
Realizar un seguimiento de la calidad de contratación no es una operación al alcance de todas las empresas, teniendo en cuenta que requiere mucho trabajo y una espera considerable antes de disponer de los primeros resultados.
Pero las ventajas que se pueden obtener de este índice son importantes.
He aquí algunos ejemplos:
Al asociar la calidad de contratación con el índice de la fuente de contratación entenderemos qué canales nos aportan a los mejores empleados —y, por lo tanto, a los mejores candidatos— e invertir en ellos en la fase de búsqueda. A la vez, podemos darnos cuenta de que una determinada agencia de selección o portal de empleo nos proporcionan resultados insuficientes.
Mediante este índice podemos identificar las características que distinguen a los mejores recién contratados y modificar todas las actividades de contratación —desde la redacción de la descripción del puesto hasta las entrevistas— para que aparezcan los candidatos que las poseen.
Si la puntuación de la calidad de contratación aumenta del 60 % al 70 % durante un año, podremos estar seguros de haber realizado los ajustes necesarios y de tener que continuar en la misma dirección.
La situación en el mundo
En el marco del estudio Global Recruiting Trends 2016 realizado por LinkedIn en pequeñas y medianas empresas, pudimos ver que las empresas satisfechas con su capacidad de medir la calidad de las contrataciones son, en realidad, una pequeña minoría.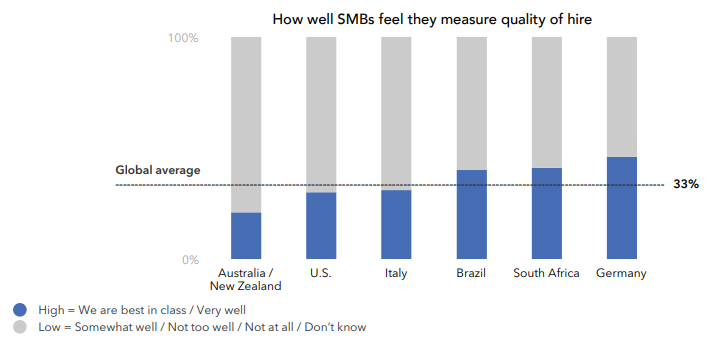 Conseguir calcular la calidad de contratación supone por lo tanto una ventaja competitiva para una empresa que no se debería despreciar. No hay más que pensar que, según un estudio publicado en Personnel Psychology, los empleados con mayor rendimiento de una empresa suelen obtener resultados 4 veces superiores a la media de la empresa.
Copyright: ©peshkova/Fotolia